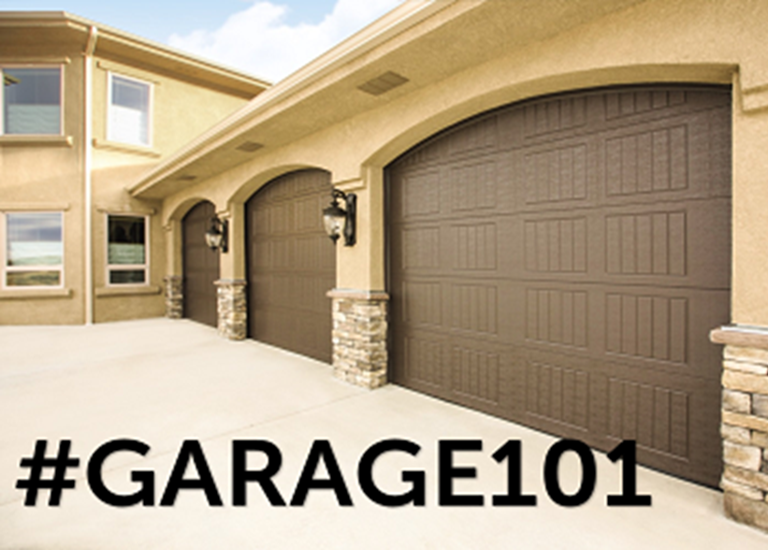 Garage Door Glossary - Terms & Definitions
Mar. 28, 2016
An informed consumer is the best consumer. We want to make sure that if you're in the market for a new garage door, you can go into the experience with knowledge that can help you make the best and most informed purchase decision for you. Below are some of the most popular terms used in the garage door industry.
Anodized Finishes
A method of coating aluminum with a protective file which can be clear or include colors including bronze and black. See color swatches of anodized finishes on any of our aluminum glass garage doors.

Clear

Bronze

Black
Bi-Directional Wood Grain Finish

This wood grain design is made to mimic real-wood finishes on some of our Classic Steel Collection garage doors. Below are examples of what a bi-directional wood grain finish looks like on our steel garage doors model 8300:

Golden Oak

Walnut

Mission Oak
Bottom Weather Seal
In addition to insulation, our doors have a bottom weather seal. The bottom weather seal blocks drafts and reduces air infiltration. It remains flexible even in extreme cold to keep the bad weather outside. All of our residential garage doors feature a bottom weather seal.

Delta E
This is a measurement often used to represent the distance between colors. 1.0 Delta E is the smallest color difference the average human eye can see. Our TruChoice® Color System is the first garage customization system to offer matching within 1.0 Delta E of a provided paint sample.

Fenestration and Perforation
This option is featured on our Security Shutter Model 523 – which also happens to be one our most compact commercial designs to date! These two designs allow for retailers to have visibility even while the door is closed without sacrificing security! They are different types of open slats in the door so that potential customers can still see your merchandise.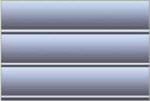 Standard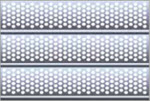 Perforated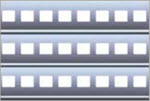 Fenestration
Galvanize a Garage Door
This is a process of coating steel to prevent rusting. All of our steel garage doors are galvanized.


Garage Door Cycle
One cycle of a garage door goes from when it's fully closed to fully open and then back again to fully closed.

Garage Door Overlay
Overlays are a trim like the kind seen in our Carriage House Garage Doors. If you're looking to add more curb appeal to your home, overlays help to add style! Our Model 6600 overlays come in wood grain or smooth finishes and the overlays on Models 9405 and 9700 are wood grain embossed steel.

Headroom
Make sure to pay attention to this important measurement when choosing your garage door. Headroom is the vertical clear space needed above the door opening, and below the lowest ceiling obstruction. This measurement must be taken to ensure proper installation and operation of the door and its hardware.

Insulation
This material is inside of your garage door and can reduce heat or cold transmission. Two popular types of garage door insulation are foamed-in-place polyurethane (which provides greater thermal performance), and rigid panel polystyrene.
Integral Struts
Some Wayne Dalton doors feature horizontal integral struts at the top and bottom of door sections. These struts add rigidity and strength to the door for a long life and smooth operation. The Wayne Dalton garage doors that feature integral struts are Carriage House Garage Doors Model 9405 and Classic Steel Garage Doors Model 9100/9605.
Lift Handle
In case your electric door opener fails it's good to have a back-up plan for entry to your garage. A lift handle can be installed on the inside of the door so that you can open it manually if needed.

Arrow

Aspen

Barcelona

Conifer

Fleur-de-Lis

Spear
Pinch-Resistant / Anti-Pinch Hinges
Wayne Dalton's pinch-resistant garage doors are designed to help eliminate injuries caused when fingers are caught in door panel joints during downward operation of the door. These pinch-resistant door panels help push fingers out of harm's way if accidentally placed near a closing door. Wayne Dalton developed the first integrated pinch-resistant door design in the industry. Our pinch resistant doors include Model 9700, 9405, 9100/9605 and 9510.
Photo Eyes
Also referred to as photo-electric sensors. This is a safety feature on a garage door system that will reverse the direction of the garage door if a person or object enters its path.

PVC
This vinyl coated polyester helps protect against wind, rain, and storm-driven projectiles. This lightweight and flexible material is used on our Fabric-Shield® Storm Panels.

R-Value
This measurement shows how effective a particular garage door's insulation is. The higher the R-Value, the greater a door's thermal efficiency. Our classic steel garage doors Models 8300 and 8500 are our highest insulated residential garage doors, with R-Values of up to 16.22

Raised Panel Wood
These panels are made of ¾" thick real wood that is locked into place for your garage door. These raised wood panels can be found on our Classic Wood garage doors Model 314 and other wood doors.

Rolling Steel Door
These are metal slatted doors that roll up to store in a coil above the opening. These doors can often be found in commercial and industrial spaces. See our rolling steel doors.

Sectional Door
These doors are made of six to eight panels that slide up and overhead when the door opens. These doors are most common in residential applications, but can also be used in commercial spaces. See our sectional doors.

Tension Bridge on a Garage Door

Own a garage door that measures up to 20 ft. wide? Make sure to use a tension bridge to support the door – this is especially important if you live in a high wind area or have your door open for more than eight hours at a time.

Torsion Spring
An important feature to any garage door – are rated by how many cycles they're supposed to safely complete in their lifetime. Wayne Dalton doors have some of the safest springs in the business with TorqueMaster®, which contains the springs inside a steel tube, reducing the risk that regular torsion springs pose if they break. Read our article on How to Wind Torsion Springs on Your Garage Door.

Vertical Lift Tracks
Commonly used in industrial applications, these doors are designed so that they lift straight up the wall above the door opening, rather than curving under the ceiling. See installation instructions for vertical lift tracks.

Weather Strip
This narrow strip of material covers the joint of a door or window to prevent cold. Feel a draft near your garage door? Inspect the weather strip for any tears or gaps!

Wind Load Garage Doors
This term, commonly used in the engineering field, helps to determine the effects that wind has on a structure. Our wind load-rated doors are reinforced to withstand high wind events including storms. This reinforcement prevents buckling and catastrophic door failure. Additionally, these doors are less prone to being damaged from debris and also protect the structural integrity of your home's walls and roof! Learn more about wind load garage doors.

Wood Garage Doors

Garage doors come in several different materials and wood garage doors have their own perks. Doors constructed of hemlock make for a superb painting surface and cedar is highly resistant to rot and insects, while mahogany has a tight, smooth grain that is naturally water resistant.
Related Blogs
Feb. 27, 2018

Wood, steel and fiberglass are three of the most popular garage doors material options. Other materials include glass, vinyl and aluminum.

May. 31, 2019

Take our advice for some great gift ideas that will let the special man in your life know how grateful you are for him this Father's Day.

Jun. 4, 2020

Wayne Dalton has a wide variety of insulated garage doors to keep your home safe and temperature controlled. Read about the many benefits of garage door insulation in this article.