The Wayne Dalton® TruChoice™ Color System is a custom paint process that offers more than 6,000 colors. This state-of-the-art system uses a multi-step process that mixes each custom color and then bakes the color on for a high-quality factory finish. With so many colors to choose from, there have never been more choices in coordinating your garage door color with your home's trim, window shutters, front entry door, or interior paint color.
TruChoice™ can match a vast number of colors, including RAL Classic colors, many brand-name paint manufacturers, or the paint sample of your choice*. A few of the paint manufacturers we can match are Ace, Behr, Benjamin Moore, Olympic, Sherwin Williams, True Value, and Valspar. Our custom color system is a fantastic way to customize your garage door or commercial door without all the hassle of painting the door after installation.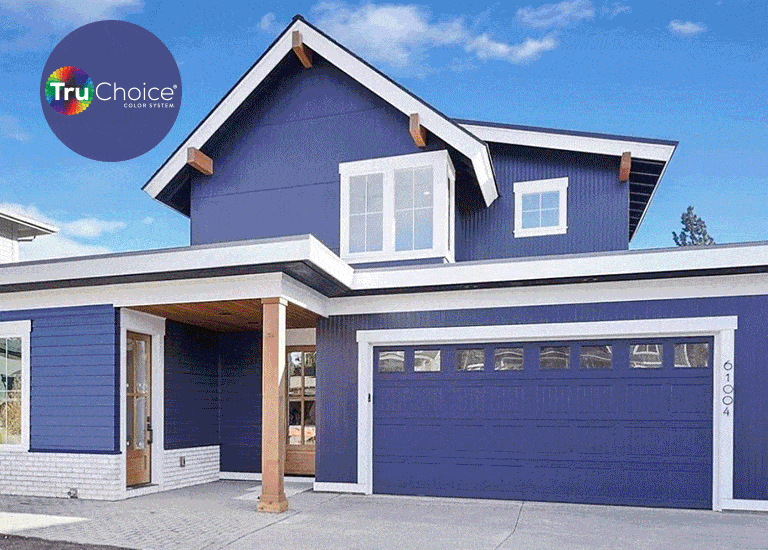 Picking Your Color
With TruChoice™, your residential garage door or commercial door possibilities are almost limitless. Homeowners desire a garage door that fits their unique needs that not only enhances the value and curb appeal of their home but one that can become a focal point of the neighborhood. While business owners, on the other hand, stand out from the competition by bringing the company's color palette to their building. Effectively turning their commercial doors into additional branding assets.
Visit your local Wayne Dalton Dealer for actual color samples to match with your home or business. Online color swatches are only digital reproductions of actual standards and will vary in appearance due to differences in monitor and video card output. These digital representations should not be used to finalize color selection(s).

Here is the Step-By-Step Process:
Select your garage door.

Choose your door, panel design, windows, and hardware.

Order your door.

Your Wayne Dalton dealer will order your garage door using either the color number provided or by sending your paint sample to the plant.
If you submit a paint sample and would like a color chip of your paint color, a fee will be charged to cover setup and paint costs. A color chip will then be sent to you for approval.

Choose your color.

Provide your dealer with one of the following to get your custom color.
Manufacturer, color name, and color number OR RAL Classic number OR provide a reference paint sample – it must be at least 1.25" x 1.25" but no larger than 8.5" x 11"
One color
Flat (not curved)

Receive your door.

Once your door's paint has been mixed, the factory will compare it to the paint sample supplied. If the paint color is within one visible shade (1.0 Delta E as measured by our spectrophotometer) of the paint sample provided, the door will be shipped back to your dealer for installation.
Limitations: While we have a vast number of colors to customize your garage door, we are unable to match wood grain, stains, or metallic finishes. There are also a few extreme colors we may not be able to match.
TruChoice™ is Available on the Following Wayne Dalton Models: