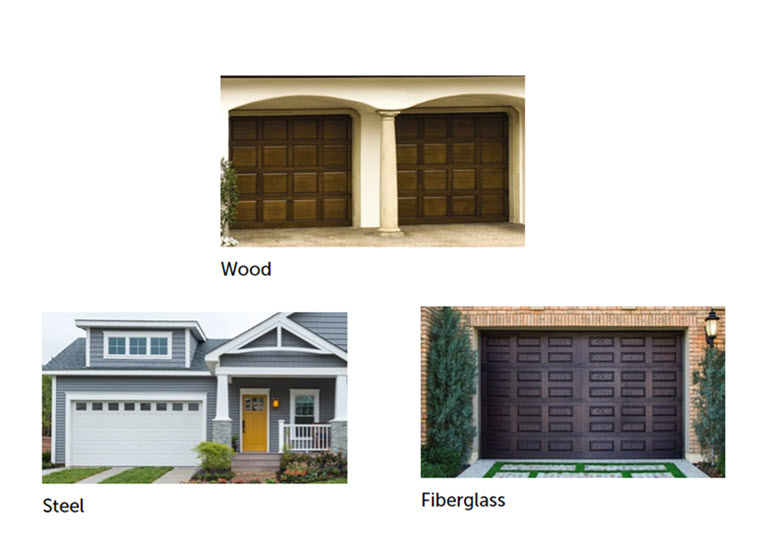 Garage Door Material Options - Top 3 Choices
Feb. 27, 2018
The top three most popular garage door materials chosen by homeowners include steel, wood, and fiberglass. Not only are they reliable, but these materials are also strong and can easily complement any home. We've provided some key takeaways to help decide which door is right for you.
Steel Garage Doors
Since the 1950s, steel raised panel garage doors have been North America's most favored door due to their long-term durability. In addition to benefits such as high thermal efficiency, steel garage doors can be designed to match virtually any architectural style. Wayne Dalton's Model 6600 has composite wood overlays to mimic a true carriage house wood door.
Not only can steel endure years of harsh elements, residential garage doors made of this material typically require minimal cleaning or touching up. This makes them a great option for homeowners looking for low maintenance and aesthetically pleasing door.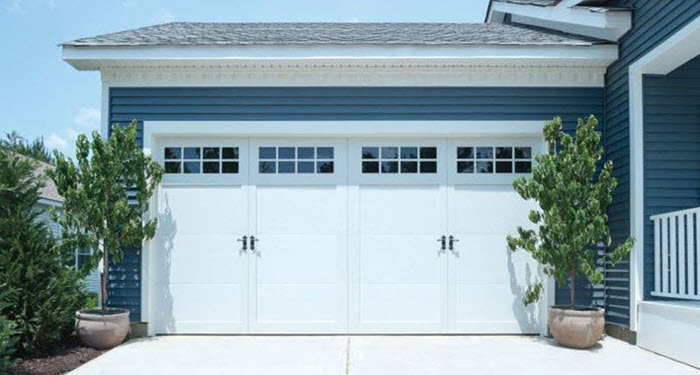 Carriage House Garage Door Model 6600
Arlington panel, White/White finish, Stockton III windows, Fleur-de-Lis hardware
Wood Garage Doors
The rich beauty and craftsmanship of wood garage doors are often why homeowners select this material over others. Wood garage doors are particularly popular in high-end or traditional homes because they appear more natural and solid compared to other door options.
Homeowners who opt for a wood garage door can choose from a number of styles, or they can custom design the door of their dreams. Wayne Dalton's wood garage doors come in a number of different materials such as cedar, hemlock and mahogany and can be made to look more unique with windows, stains, finishes, and hardware.
Although wood is a strong material and can be treated for added durability, these doors require regular maintenance to maintain a pristine appearance and avoid warping, rotting or cracking.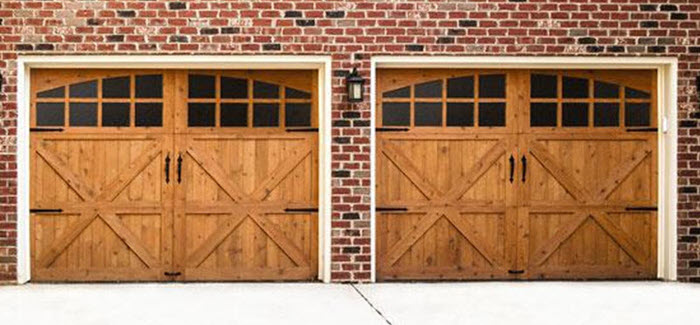 Wood Garage Doors
Fiberglass Garage Doors
Fiberglass garage doors are an appealing alternative to both steel and wood doors, offering an artfully molded wood-grain fiberglass surface bonded to a durable steel frame. Aesthetically, these doors are as close as homeowners can get to resembling the warmth and appeal of wood garage doors, but without the high maintenance, wood doors require.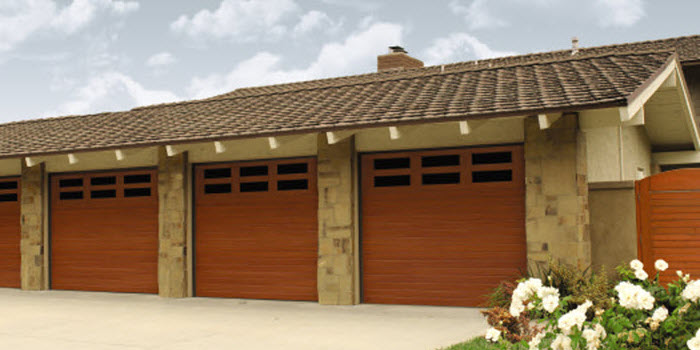 Fiberglass Garage Doors
Horizontal Groove with Horizontal V-Groove Panel Windows
Related Blogs
Jun. 4, 2020

Wayne Dalton has a wide variety of insulated garage doors to keep your home safe and temperature controlled. Read about the many benefits of garage door insulation in this article.

Feb. 1, 2021

Pantone, Glidden, Sherwin Williams and Benjamin Moore release their picks for 2021 Color Trends. You can now pick one of these colors for your garage door.

Sep. 6, 2017

How to Wind Garage Door Torsion Springs to make your garage door work properly. Links are available to several models we sell so that you can select the correct instructions for the garage door you own (or are working on).