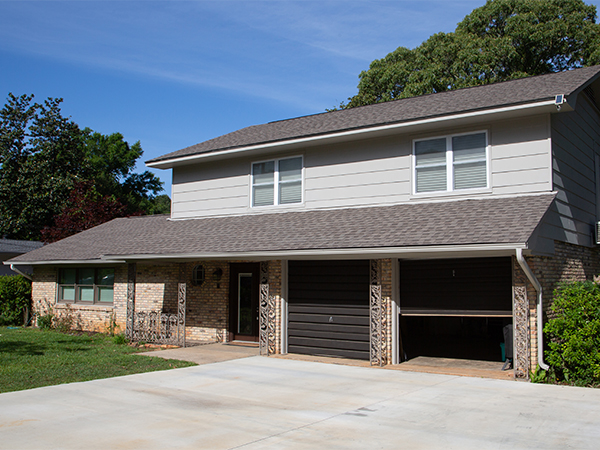 Total Curb Appeal: Today's Homeowner and Wayne Dalton® Successfully Overhaul a Sixties Home
Jul. 7, 2023
When Aaron Caldwell purchased a charming but dated 1960s home three years ago in Mobile, Alabama, he decided to remodel it, one room at a time. After revamping the interior with tasteful updates, Caldwell's focus shifted to the exterior, seeking to enhance the house's curb appeal.
Caldwell's Home Before Garage Door Renovation | Photo Credit: Today's Homeowner
The primary issue Caldwell addressed was the home's mismatched and malfunctioning garage doors, prominent fixtures that took up much of the exterior façade. The first thing anyone would notice when approaching the house were the garage doors, which did not reflect Caldwell's taste. Additionally, Caldwell had to open and close his garage doors manually, exerting effort that could have been spent elsewhere.
Recognizing the potential not only to beautify but also enhance the functionality of his home, Caldwell turned to the Today's Homeowner team of trusted home improvement experts and to Wayne Dalton® to bring new life to his home's exterior. Award-winning TV Host Danny Lipford led the Do-It-Yourself project.
Wayne Dalton® installers build framing for the garage doors. | Photo Credit: Today's Homeowner
The experienced installers from Wayne Dalton® Sales and Service (WDSS) Pensacola had to dismantle the existing doors and upgrade the framing to withstand the strong Alabama wind loads. Moreover, the garage had an obstruction on the ceiling that posed a problem to installing garage door openers. However, WDSS Pensacola installers utilized their expertise to resolve this issue and set up the doors and openers, ensuring that Caldwell would no longer need to open his doors manually.
The transformation of the exterior truly began with the installation of two Carriage House Steel Model 9405 garage doors with Barcelona Hardware. The remodeled façade looked fantastic and functioned flawlessly.
Designed to harmonize with a variety of architectural styles, Model 9405 brings a fresh and cohesive aesthetic to Caldwell's home. These garage doors immediately elevated the property's curb appeal – especially after the front beams, window frames and shutters were painted to complement the soft beige color. The carriage house design, large windows, Wayne Dalton® clay paint finish and embossed high-tensile steel panels perfectly complement the original house design while revitalizing it.
Caldwell's Carriage House Steel Garage Doors After Renovation | Photo Credit: Today's Homeowner
Beyond their beauty, these doors are expertly engineered. With foamed-in-place polyurethane insulation, the Model 9405 doors provide thermal efficiency, dampen street noise and ensure a smooth, quiet operation. Additionally, these doors boast Wayne Dalton's TorqueMaster® Plus Counterbalance System, an innovative system that securely encloses the springs within a steel tube.
Despite its classic, swing-open appearance, these garage doors are in fact sectional steel doors that open upwards like other traditional garage doors. Wayne Dalton®'s Carriage House Steel Model 9405's aesthetic charm has longevity and will be as enticing today as it will be a decade from now.
Today, the curb appeal of Caldwell's home entices onlookers. The superior craftsmanship of Wayne Dalton®'s garage doors is now the main focal feature of the house for the right reasons. Who wouldn't be proud to own a house that not only feels like home but also looks the part?
The power of a thoughtful and well-executed makeover is evident in Caldwell's story. By selecting Wayne Dalton's Carriage House Steel Model 9405, he updated the style, functionality and longevity of his home.
Like Caldwell, if you are contemplating a home makeover or renovation, never overlook the power and value new garage doors bring to your home. Remember: first impressions count, and nothing welcomes guests (or attracts potential buyers!) like an aesthetically pleasing, well-crafted garage door from Wayne Dalton.
For more information about Wayne Dalton®'s Carriage House Steel Model 9405 or to look at other garage door designs, visit Carriage House Steel Model 9405.
To get started on your DIY journey today, head to your local Lowe's and pick up a Wayne Dalton® door.
Related Blogs
May. 10, 2023

Revitalize your homes curb appeal with a stunning new Wayne Dalton garage door.

Feb. 2, 2021

See all the reasons you'll love select Wayne Dalton models in Lowe's stores nationwide!

Dec. 4, 2020

Wayne Dalton shares some tips on how to make your garage door stand out among the rest. Featuring a green garage door with vertical windows...