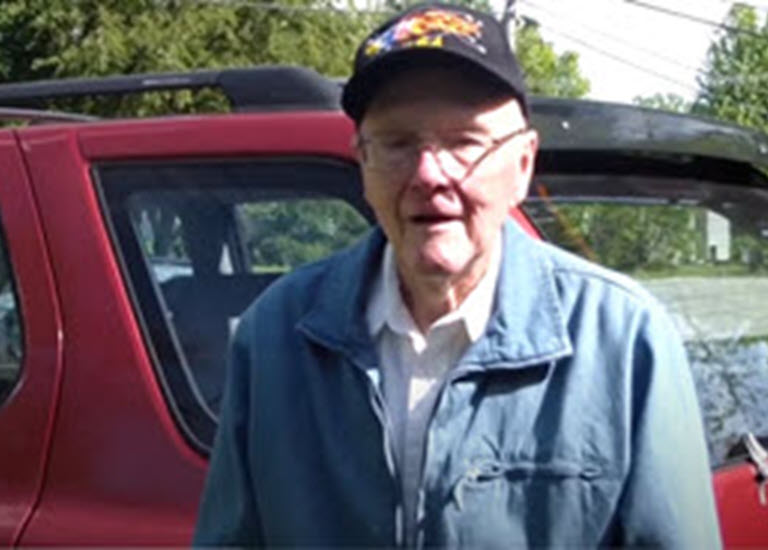 Old Man Drives Through Garage Door
Oct. 25, 2017
A 91 year old man who had driving thru his garage door on his bucket list accomplished the task on his birthday.
It's early in the morning and the sun hasn't quite risen yet. You've only taken a couple sips of your coffee so you're walking sluggishly to your car. You get in and turn the key, put the car in reverse and hit the gas, Wham! Your coffee spills all over and you're now fully awake. As you come to your senses, you realize you've just backed into your garage door.

This occurrence happens more often than you think. It certainly isn't an uncommon issue, many garage door dealers get calls just like this all the time from homeowners who say they have driven or backed into their garage door.

For most people, driving into a garage door just means a call to their local garage door dealer for repair or replacement, but for Walter Thomas, a 91-year-old from Woodstock, Illinois, backing into a closed garage door was a life-long dream.

On May 31, a 91-year-old man got to cross off the first and last thing on his bucket list, backing through a garage door.


VIDEO: Old Man Drives Through His Garage Door

What should you do if you back into your garage door?
You may not have a smile on your face like Walter Thomas did the next time you drive or back into a garage door, but you certainly can have the ease in knowing that there is a professional near you to assist you in the repair or replacement of your door. If you find yourself in the situation Walter Thomas is in (but it's not your birthday and you didn't plan on backing into your door) then it's important to call a garage door repair professional immediately.
Why should you call a garage door professional to repair your garage door?
Since garage doors are usually the heaviest and largest moving object in the home and includes a lot of dangerous parts like high-tension springs, it's important to contact an expert who has experience with service, repair and installation of garage door systems.
Related Blogs
Jan. 12, 2017

How to Replace Your Garage Door - Tips for Replacing or Refreshing Your Garage Doors

May. 28, 2020

A garage door replacement is a sound investment. Wayne Dalton has multiple options for you to replace your garage door and increase that curb appeal.

Sep. 13, 2017

If you thought the only place for an old garage door was the junkyard, think again. Southern Material Handling Inc. got creative when it came to the "disposal method". Recycling old garage doors can be fun when you use them in creative ways.