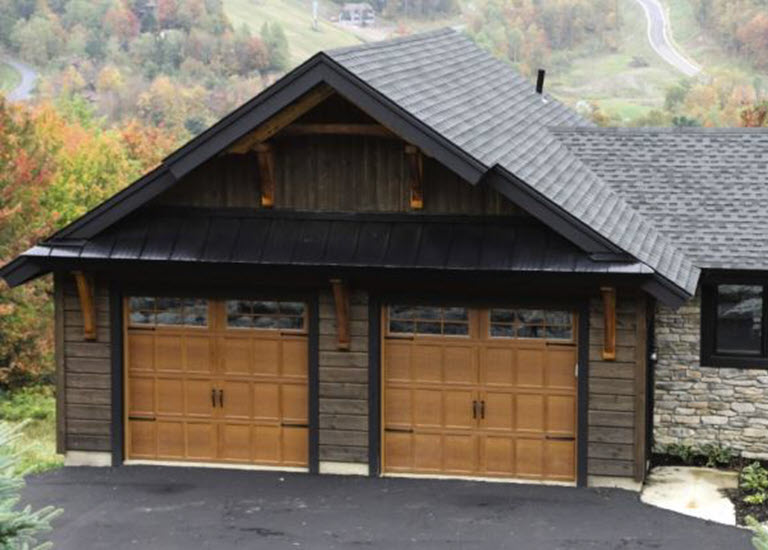 Garage Door Replacements
Jan. 12, 2017
How to Replace Your Garage Door
Tips for Replacing or Refreshing Your Garage Doors

Every now and then, we partner with a blogger to share tips on our blog. This week, Laura Gaskill from the popular website Houzz shares tips on replacing or refreshing your garage door. Houzz is a platform for home remodeling and design, bringing homeowners and home professionals together in a uniquely visual community. Enjoy Laura's blog below!
A garage that faces the street (especially a large two- or three-car garage) can take up a lot of visual real estate. If your garage doors are in poor shape, clash with the style of your home or are just uninspired, replacing them can greatly increase your home's curb appeal. Here are the need-to-know facts about updating your garage doors, covering style, cost and more.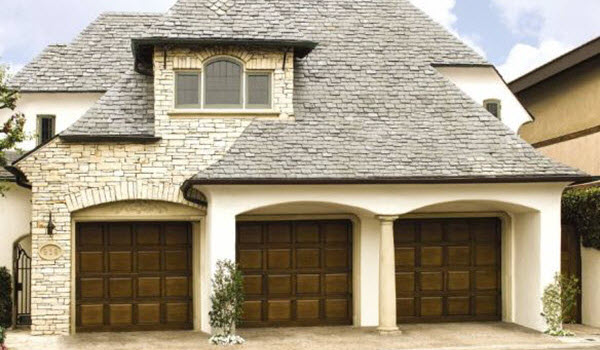 Updating your garage doors can enhance your home's curb appeal, and in the case of attached garages, make your home more secure.
When is the best time of year to install a garage door?
Since it is outdoor work, it is ideal to replace garage doors during warm, dry weather. That said, unless you are painting or installing a more elaborate custom feature (like a pergola), the weather does not matter too much — as long as it's not freezing and you're not in the middle of a thunderstorm, your pro should be able to tackle the job in a few hours.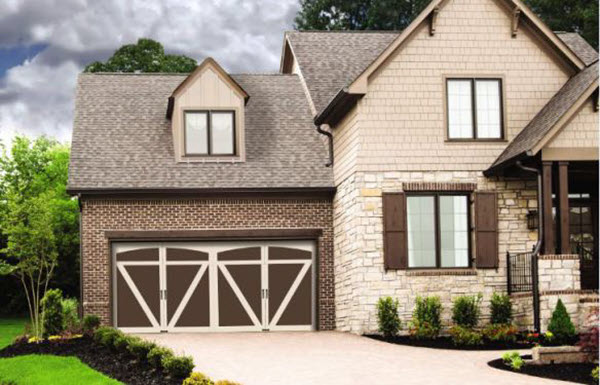 Who should I hire to replace my garage door?
Because of the precision required, installing a new garage door is best left to the pros. A garage door professional will have the most experience and expertise at fitting and installing your garage door.
Permit required? Maybe. Because it is essentially an exterior wall, some cities do require a permit for replacing a garage door and opener. Any reputable pro that you hire should be able to tell you whether or not you will need a permit for the work; if you are still not sure, contact your city or county government agency and ask.
What garage door materials are available?
Wood offers the widest range of design options and works well in all climates; it is the most expensive.

Steel is typically less expensive than wood, but because it can rust, it should be avoided in coastal areas.

Aluminum costs more than steel but does not rust, making it a good choice for coastal homes.

Tempered glass in an aluminum or wood frame is well suited to modern and contemporary homes.

Fiberglass and vinyl are budget-friendly options and will not rust, but design choices may be limited and these materials can crack in cold weather.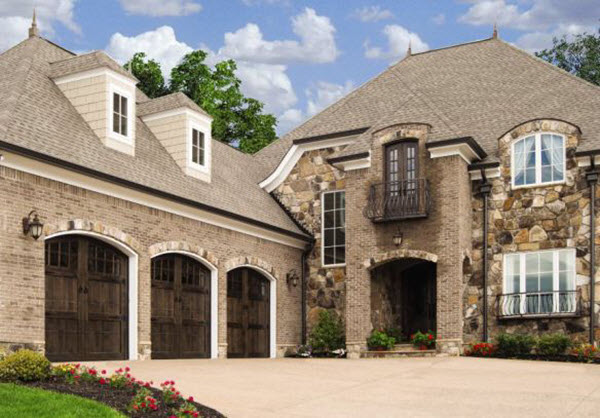 What are the different types of garage doors?
Sectional: The most common type of garage door; rolls up and down on tracks.

Sliding: Barn-style garage doors slide open to the side, requiring a wider garage wall to accommodate the door when open.

Swing-out: Double doors that swing outward when open are not a good choice for cold climates, as snow drifts can block the doors from opening.
All of these door types can be made in a manual or automatic, remote-operated version.
Browse Thousands of Garage Design Photos on Houzz.
How long does it take to order and install a new garage door?
If you are purchasing a standard-size garage door and it is in stock, it could be ready as soon as the next day. Custom doors may take a month or two to arrive. Once you have your new door, a pro can have it installed it in a single morning.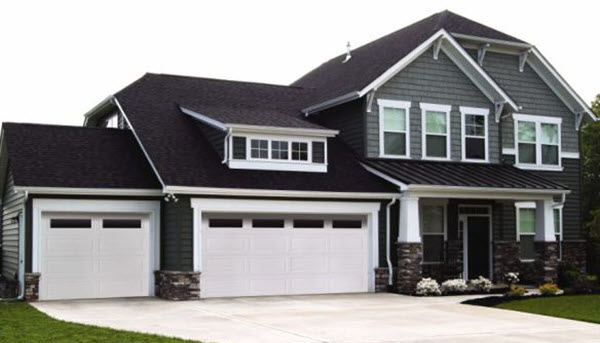 What are the approximate costs of a new garage door?
Steel garage doors typically range in price from $300 to $3,000; glass with an aluminum frame costs $1,500 to $3,000; vinyl costs $600 and up; fiberglass costs $1,500 and up. Wood doors are typically the most expensive, $1,000 to $10,000. Installation costs vary by region, but you can expect to pay roughly $100 to $200 to remove and dispose of your old garage door, and another $100 to $500 for a pro to install your new one. A pergola over garage doors can run $5,000 to $8,000 installed.
For a smaller update, new sconces cost $100 and up each, plus installation; new hardware costs from $5 up to $100 or more per piece, depending on the materials used. Painting or staining can be done as a DIY project for only the cost of materials.
What garage door styles and options are available?
It's best to match your garage door to the style of your home, so seek one out that echoes the architectural features, materials and colors of the rest of your home. For example:
Pair a traditional home with an arched garage door with paned windows.
Update your Spanish colonial with a wooden garage door with iron hinges.
Add a rustic barn-style garage door to your farmhouse.
Accent a Craftsman home with a wooden garage door with rectilinear windows and trim.
Match up a modern home with a sleek glass-paned garage door.
Choosing decorative accents for a garage door

Once you have chosen your new garage doors, consider which accents would best complete the look. Decorative corbels beneath the eaves add character to this garage, pulling in some of the style of the house.
If your garage roof does not have eaves deep enough to fit corbels, a pergola with arched brackets can create a similar look.
Sconces and hardware are other finishing touches that can make a big impact. Or, if you do not want to replace your garage doors, simply adding attractive sconces, new hardware and a fresh coat of paint or stain can revive your garage on a budget.
Find New Outdoor Lighting on Houzz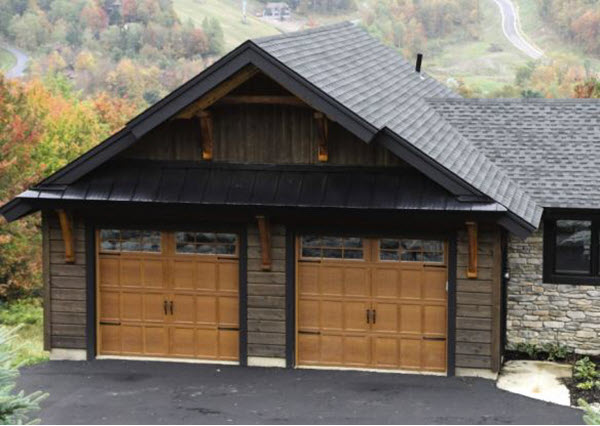 How to test your garage doors safety features?
Automatic garage doors include safety features meant to protect kids and pets from becoming trapped under a closing door. Be sure that your garage door's safety features are working properly by doing these two easy tests regularly:
Wave a broom handle under your garage door as it is closing. The door should "see" the broom with the built-in motion sensor and roll back up immediately.
Test pressure sensitivity by placing a roll of paper towels under the door before closing. As soon as the door reaches the paper towel roll, the pressure sensors should "feel" it and roll the door back up.
If your door fails either of these tests, call your garage door installer as soon as possible to fix the issue.
For more Q&A - see our Frequently Asked Questions.
Related Blogs
May. 28, 2020

A garage door replacement is a sound investment. Wayne Dalton has multiple options for you to replace your garage door and increase that curb appeal.

Feb. 27, 2018

Wood, steel and fiberglass are three of the most popular garage doors material options. Other materials include glass, vinyl and aluminum.

Feb. 19, 2018

Garage Door replacements have secured the #2 spot for return on investments says the 2020 Cost vs. Value Report.