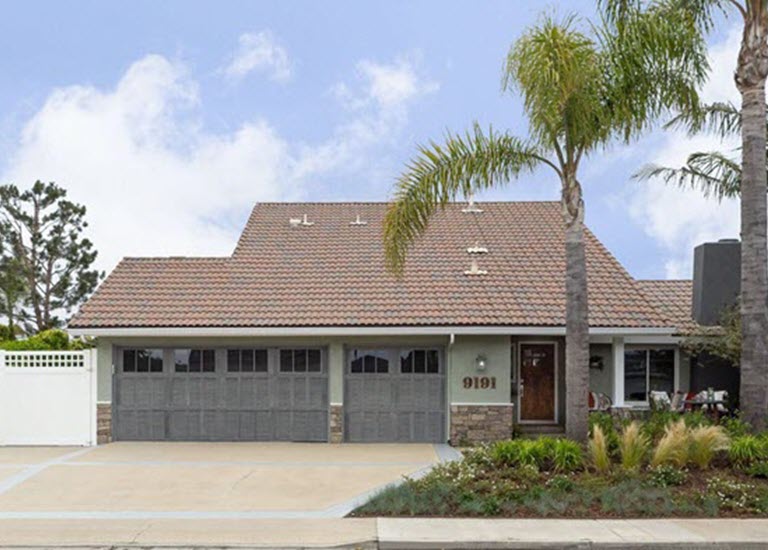 Hidden Potential with Garage Doors
Sep. 13, 2019
Wayne Dalton Garage Doors Amp Up HGTV's Hit Show "Hidden Potential"
California builder and designer Jasmine Roth adds serious curb appeal to builder-basic homes with the hidden potential of garage doors.
HGTV's breakout hit show Hidden Potential follows California builder and designer Jasmine Roth as she transforms builder-basic houses into custom dream homes by giving them features that stand out from the crowd. On Hidden Potential's second season, Roth worked with Wayne Dalton independent dealer All County Doors to adorn four homes with a variety of doors, including Model 8800 Contemporary Aluminum, Model 8300 Classic Steel and Model 9700 Carriage House Steel.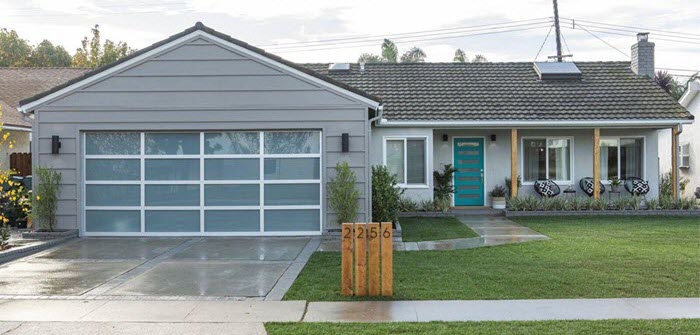 Aluminum Glass Garage Door - Model 8800 / Episode 202


Aluminum Glass Garage Door - Model 8800 / Episode 208
Constructed with a rugged, anodized aluminum frame with color options like white and black, Model 8800 Contemporary Aluminum doors add a clean, modern edge to any home. While Jasmine selected a white frame to create unity and match the trim of episode 202's home, she decided on a black frame for episode 208 so the bold color would pop against the white garage door trim.
Standard product features include a flexible vinyl bottom to help prevent dirt and debris from entering the enclosed space and tongue-and-groove joints that act as a great weather barrier. Reinforced fins and heavy-duty track and brackets aid in years of smooth, trouble-free operation. Both of the doors shown on Hidden Potential were built with standard frames and white laminated glass, allowing ample amounts of light for inside the garage and privacy from the neighbors.
While Model 8000 Contemporary Aluminum doors are available only on the West Coast, residents living on the other side of the United States can order a Model 8850 Contemporary Aluminum, Model 8800's equal counterpart.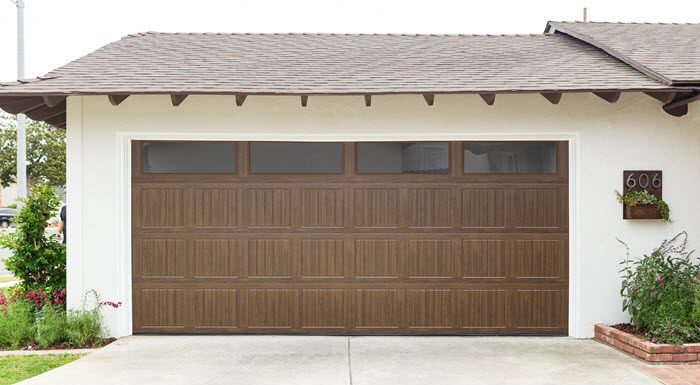 Classic Steel Garage Door - Model 8300 / Episode 212
Classic Steel Model 8300 is offered in five classic and contemporary designs with a wide selection of colors and bi-directional wood grain finishes, windows, and hardware. The Model 8300 garage door highlighted on episode 212 features the Sonoma panel in a Mission Oak wood grain to resemble the look of real wood.
Amongst Wayne Dalton's best-insulated doors, Model 8300 is durably made with two layers of steel surrounding a thick layer of foamed-in-place polyurethane insulation. The door also features heavy-gauge steel wrap-around end caps that are used to trim-out door edges for better appearance, improved strength and damage-protection of the insulation.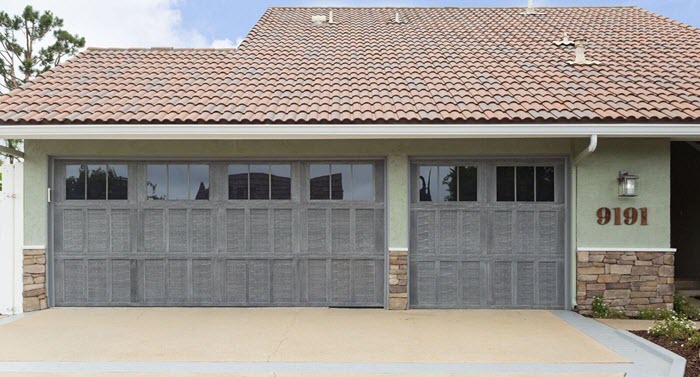 Carriage House Steel Garage Door - Model 9700 / Episode 216
On episode 216 of Hidden Potential, Roth opted for a Model 9700 Carriage House Steel garage door that features embossed, high tensile steel panels that give the look of wood with the strength of steel.
Model 9700 comes with foamed-in-place polyurethane insulation with an R-value of 10, which can improve a home's thermal efficiency if the surrounding walls in the garage are insulated, make the door operate more quietly and can even block street noise. This door also offers wind load options, pinch-resistant panels and the TorqueMaster® Plus, Wayne Dalton's exclusive counterbalance system that safely contains springs inside a steel tube.
"Through Hidden Potential, viewers have the opportunity to see how a new garage door can completely transform the exterior of a home. Plus, garage door replacements can help increase the overall value of one's home at the time of resale," said Wayne Dalton Senior Brand Manager Sarah Schram. "We love working with building and design experts like Jasmine who help clients see the beauty of well-planned curb appeal."
Hidden Potential can be seen on HGTV reruns, the network app, and can also be streamed on YouTube, iTunes, Amazon Video, VUDU and Google Play.
Related Blogs
Nov. 26, 2019

Rock the Block on HGTV featured Jasmine Roth and other builders to see who could do the best makeover.

May. 7, 2018

See how the HGTV Property Brothers and the Wayne Dalton Model 6600 Carriage House Steel garage doors helped transform this family's home.

Oct. 25, 2017

HGTV Property Brothers Transform Las Vegas Home With Custom Wood Garage Doors