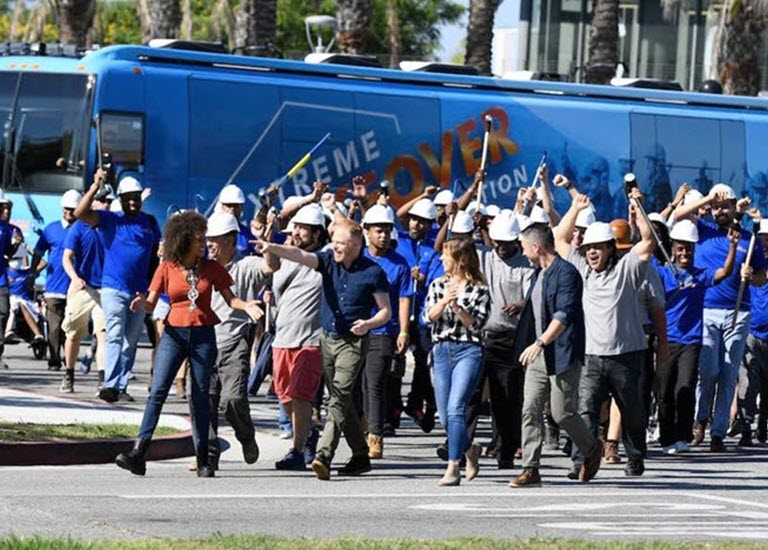 Garage Doors on Extreme Home Makeover
Aug. 7, 2020
Wayne Dalton Garage Doors Help Give Homes an "Extreme Makeover: Home Edition" on the New Reboot
The new team on the HGTV reboot revealed heartwarming renovations to deserving families adorned with Wayne Dalton garage doors.
If you've missed hearing those infamous words, "MOVE THAT BUS!" and watching inspiring stories of true modern-day heroes as much as we have throughout the past seven years, then you understand the level of excitement we had leading up to the season reboot of Extreme Makeover: Home Edition on HGTV. On Sunday, February 16, 2020, television screens across America were able to tune in to watch Modern Family star Jesse Tyler Ferguson as he teamed up with community members to help build homes for deserving families across the country. In its first-ever HGTV debut, Ferguson utilized customer-favorite garage doors from Wayne Dalton to add some serious curb appeal to three families' dream homes.
If you missed the season or just want to relive those inspiring renovations, we've got you covered!


The Mosley Family
Following multiple personal losses, Jennifer Mosley and her family were given a fresh start. With the support of Wayne Dalton, the Extreme Makeover team and the Kern County, California community, the Mosley family was finally given the opportunity to heal in their new, beautifully renovated home.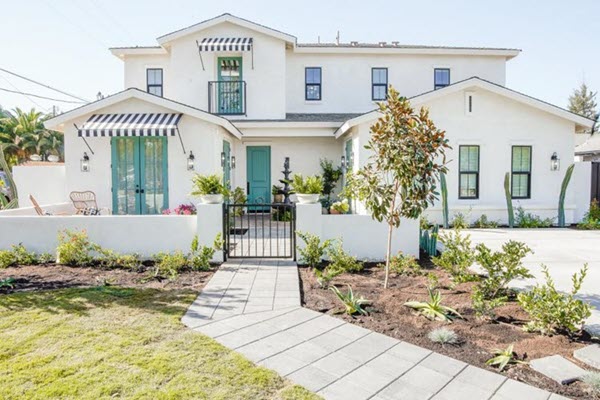 The newly renovated Mosley home designed by the
Extreme Makeover team (Credit: HGTV)

BDI Insulation and Kern Door Company installed the Wayne Dalton DS-100 Roll-Up Sheet Door to complement the California Spanish aesthetic the Mosley's had been yearning for.
Roll-Up Sheet Doors Model DS-100
Our Roll-Up Sheet Door Model DS-100 is known for its strength and versatility. This steel garage door is a great choice for homes looking for a low maintenance door with smooth operation. Even though this is a light application, commercial door, it offers a variety of colors, options and sizes to keep this family happy for years to come.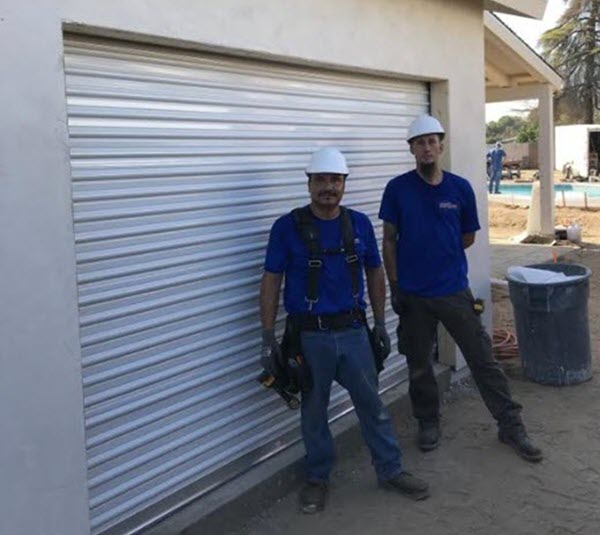 The BDI Insulation and the Kern Door Company after the installation
of the new garage door (Credit: BDI Insulation)



The Barobi Family
Despite experiencing years of loss and heartbreak, the Barobi family stayed positive and never let their hope for creating a better life get in the way of making their dreams a reality. With a new future in sight all that is needed is a place to call home.


The Barobi Family and Extreme Makeover team on the front porch
of their new home. (Credit: HGTV)

While their new modern tropical home features bright colors and bold patterns on the interior, it was important to have a beautiful yet simple garage door to allow the patterns and colors to shine. Wayne Dalton independent dealer Price's Guaranteed Doors painted and installed Wayne Dalton Classic Steel Model 8300, a garage door that combines durability with timeless finishes, making it the perfect fit.
Classic Steel Model 8300
Among the Wayne Dalton's best-insulated steel garage doors, Model 8300 is durably made with two layers of steel surrounding a thick layer of foamed-in-place polyurethane insulation. The door features heavy-gauge steel wrap-around end caps that are used to trim-out door edges for an improved appearance, improved strength and damage-protection of the insulation. Classic Steel Model 8300 is also offered in five classic and contemporary designs and a wide selection of painted and bi-directional wood grain finishes, colors, windows and hardware.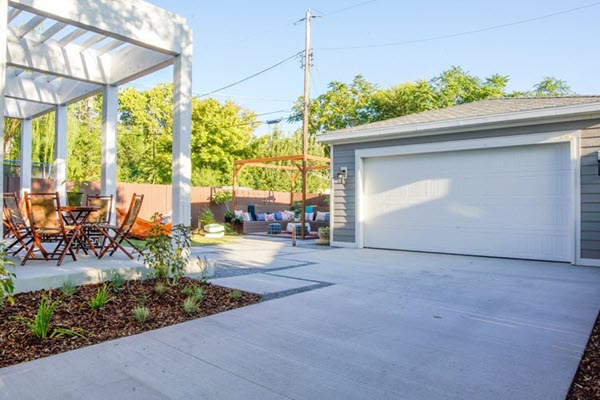 The all white Classic Steel Model 8300 at the Barobi's new family home.
(Credit: HGTV) Garage Door painted by Price's Guaranteed Doors.
The Joseph Family
Deon Joseph, a 20-year LAPD officer, and his family have dedicated their lives to service and lending a helping hand. Unfortunately, their ranch-style home was neglected in the process. This deserving family got the home renovation of their dreams, equipped with a garage bonus room. Turning a garage into a livable space is no challenge with the use of a Wayne Dalton garage door. All County Doors worked with Ferguson's team to install a white Carriage House Steel Model 9405 garage door.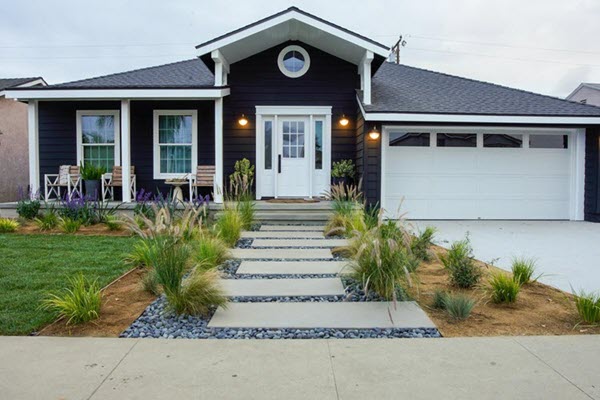 The Joseph family home's curb appeal (Credit: HGTV)
Steel Garage Door Model 9405 installed by All County Doors.



Carriage House Steel Model 9405
Our Carriage House Steel garage door Model 9405 is a builder favorite, thanks to its strong, low-maintenance design that does not sacrifice style. The door design utilized on this episode features a Westfield panel design, Clear II windows and superb insulation. This model has foamed-in-place polyurethane insulation, which can help improve a home's thermal efficiency (especially when surrounding garage walls are insulated). This type of insulation can help block street noise, perfect for turning your garage into a bonus room without compromising your dream aesthetic. With Wayne Dalton's TruChoice™ Color System, builders can have this door customized with over 6,000 color options to pair perfectly with any home or project.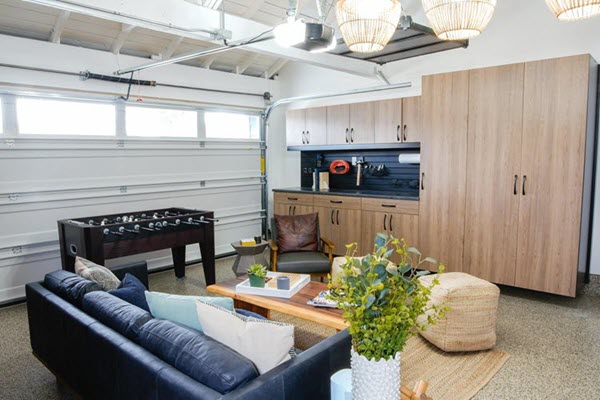 The Joseph family used their garage as a comfortable multipurpose space
with the help of an insulated garage door (Credit: HGTV)


"While we are sad the season has ended, Extreme Makeover: Home Edition will always be a beloved show that pulls on America's heartstrings as it gives back to those that spend their lives giving to others. We love knowing that Wayne Dalton garage doors will be a forever part of these families' dream homes," said Wayne Dalton Senior Brand Manager Sarah Schram.
We want to thank the families, the entire Extreme Makeover team, as well as the communities and volunteers that helped make these renovations possible.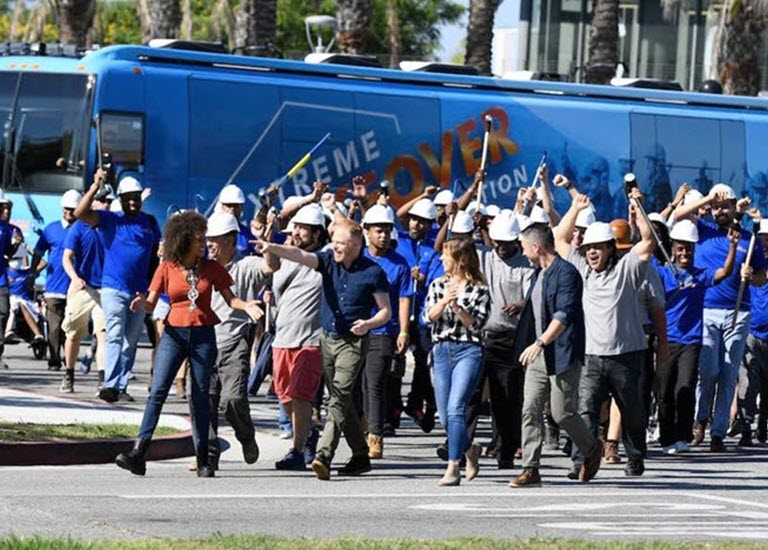 Jesse Tyler Ferguson leading the Extreme Makeover
team to their next home project. (Credit: HGTV)
Extreme Makeover: Home Edition can be seen on HGTV reruns, the network app, available on iPhone, Android, AppleTV, Roku, Amazon Fire TV and Samsung Smart TV.
Related Blogs
Nov. 26, 2019

Rock the Block on HGTV featured Jasmine Roth and other builders to see who could do the best makeover.

Apr. 14, 2016

NBC's newest show, STRONG will pair 10 contestants with 10 of the top fitness trainers in the nation. Wayne Dalton is proud to be the door of choice for STRONG's fitness studio.

Sep. 13, 2019

HGTV's new breakout show hosted by Jasmine Roth, featured many different looks at Wayne Dalton.