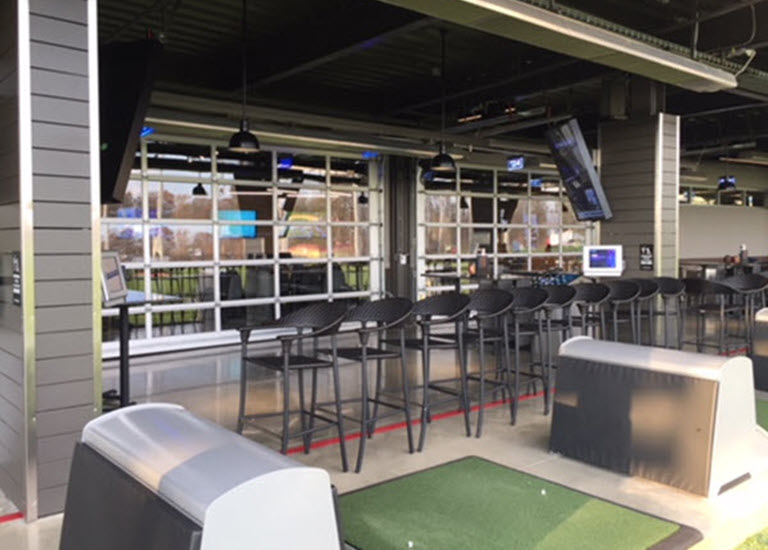 Topgolf Patio Project
Jul. 8, 2018
If you've been to Topgolf before, you may have noticed that nearly the entire building can open up to create an indoor-outdoor atmosphere for patrons to relish in the game of golf throughout the entire space. But have you ever wondered how they accomplish this? Birmingham, AL-based Magic City Door, recently installed 10 Wayne Dalton doors to bring a new Topgolf location in the city to life.
In the bay and patio areas, seven Model 452 Aluminum Full-View doors were chosen to create a clean, modern look. These doors are insulated, weather-resistant and virtually maintenance free, making them ideal for this type of application.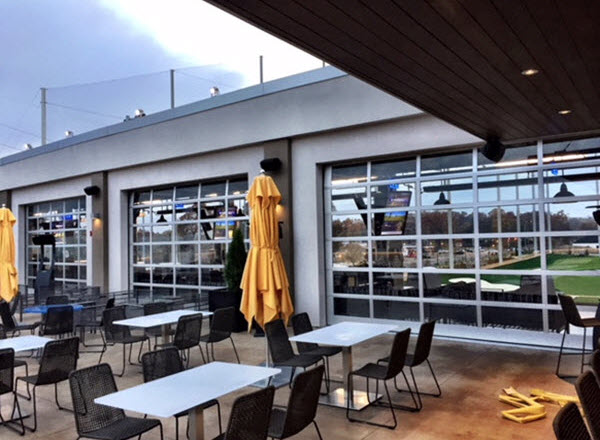 "Even before construction began, this project was all over the news. We knew how much traffic a Topgolf in town would bring, so it was a big deal for our company to be a part of it and we were eager to involve Wayne Dalton garage doors," said Joe Tosney, founder of Magic City Door.
To fit two Model 800 Rolling Service Doors in the L-shaped bar area, Magic City Door modified the doors' headway to fit in the allotted corner, according to the sketch. These doors offered the design team flexibility in substrate materials, who ultimately chose aluminum for this application. Additionally, these doors are composed of flat-faced slates to provide a natural watershed, helping to reduce corrosion.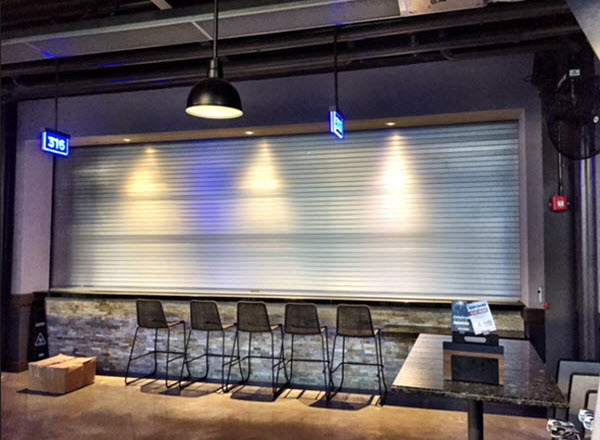 To complete the project, one Thermospan® Model 150, a polyurethane-insulated sectional steel door, was installed in the maintenance area. In this section of the building thermal efficiency is important, but strength and durability cannot be compromised, so Thermospan® Model 150 was the ideal choice.

As part of the construction deal with ARCO/Murray, the architectural firm that designs and builds Topgolf's nationally, Magic City Door installed the same doors at a Huntsville, AL location and have future plans in place to continue integrating Wayne Dalton garage doors in other Topgolf's as the family-fun company continues to grow in the area.
If you happen to be playing golf and see a Wayne Dalton door, snap a picture and tag us on social using #WayneDalton!
Related Blogs
Sep. 13, 2019

Peak 7 Adventures gets new commercial doors for their shed.

Oct. 2, 2018

Seattle's renovated and updated Pike Place Market, now has Wayne Dalton Model K-AL Aluminum Full-View doors K-AL Aluminum Full-View doors at the center of all the action.

Feb. 14, 2020

M1 Concourse Condo features Thermospan® Model 150 Doors Wayne Dalton dealer Quality Overhead Door installs doors for luxury car condo on world-class track in Pontiac, Michigan