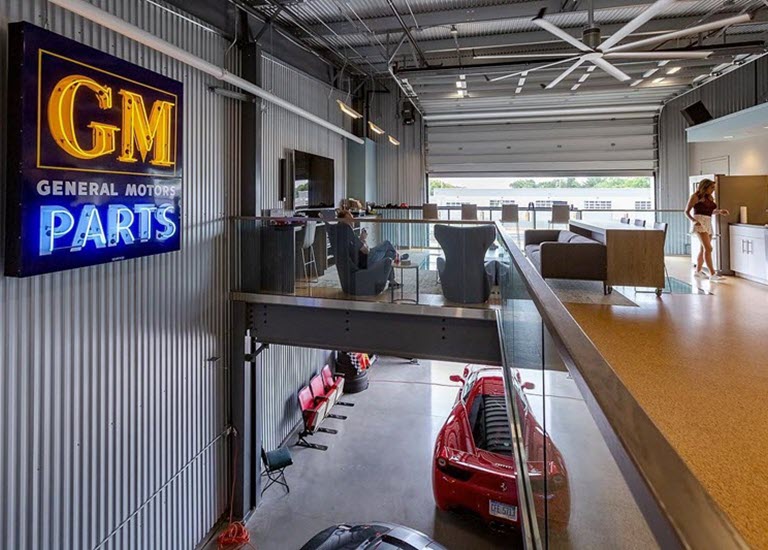 M1 Concourse Condo Project
Feb. 14, 2020
M1 Concourse Condo features Thermospan®
Model 150 Doors Wayne Dalton dealer Quality Overhead Door installs doors for luxury car condo on world-class track in Pontiac, Michigan
At the M1 Concourse, an 87-acre automotive and motorsports mecca located in Pontiac, Michigan, you will find an exclusive development where the largest concentration of car enthusiasts in the world can store, showcase and run their vehicles private from the public eye. M1 Concourse features restoration and repair shops, its own state-of-the-art 1.5-mile performance track and a Motorsports Club where family and friends can gather to enjoy their adrenaline-loving side. Here you will also find an abundance of Wayne Dalton garage doors that helped transform a M1 Concourse property into a lavish car-condo.
The Wall Street Journal, known for its award-winning news coverage and one of the largest newspapers in the U.S. by circulation, published an article about a 1,200-square-foot car condo purchased by Julie Hertzberg, managing director of the financial consulting firm Alvarez & Marsal in Detroit, and her husband, Robert Hertzberg, a partner with the law firm Pepper Hamilton. The couple had a vision to re-design the one-story car condo into a two-story, multi-functional space where they can showcase their car collection at floor level and have an inviting entertainment area up top. Local Wayne Dalton dealer Quality Overhead Door brought 36 years of experience in the Midwest to help turn the Hertzberg's dream into reality.

They installed a total of 43 Wayne Dalton Thermospan® Model 150 commercial insulated garage doors within the condo, transforming a basic box-like space into a speed-racer's personal heaven.
Thermospan® Model 150 is a polyurethane-insulated, sectional steel door ideal for commercial applications where efficiency is important, but strength, rigidity and durability cannot be compromised. Wayne Dalton's Thermospan® doors are the only sectional doors in the industry with patented, roll-formed integral struts on each section, making them the most rigid doors available. The Thermospan Series also has a patented manufacturing process with a polyurethane core that is continuously foamed-in-place between the outer and inner skins. An innovative thermal break keeps the interior skin at room temperature, preventing condensation and frost, as well as helps resist corruption.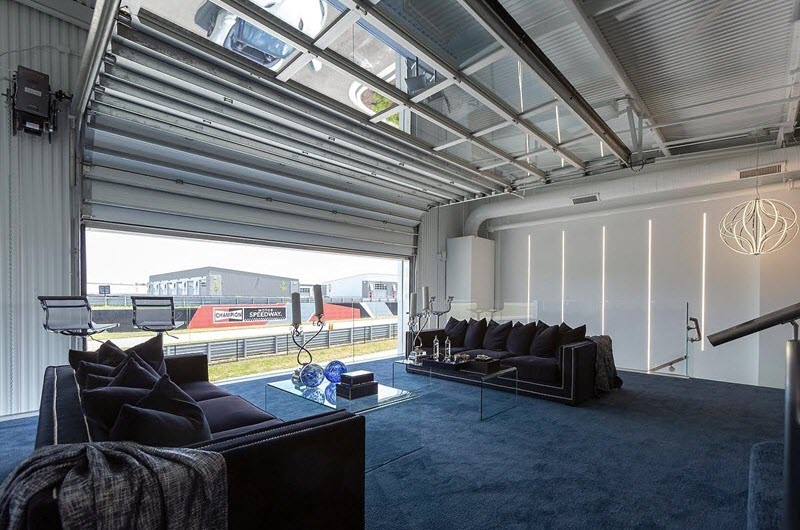 (Photo Credit: Marvin Shaouni)
With their new Wayne Dalton garage doors in place, the Hertzberg's can now enjoy an enclosed bar, kitchen and entertaining space, along with a glassed-in bar looking out over the speedway with their 2016 Chevrolet Corvette Z06, 2017 Ford Mustang Shelby GT350R and 2010 Ferrari 458 sitting peacefully on the first floor garage's polished concrete floor.
Related Blogs
Jan. 12, 2017

The Pike's Peak Cog Railway transports mountain visitors up the entire 14,115-foot slope to the summit year-round. Last year, the Railway started looking for a door solution for the barn that houses its rail cars and used our Rolling Steel Door Model 800.

Apr. 3, 2017

The Titan Door was chosen not only for its size, but its performance criteria to withstand and operate under a significant wind load, ensuring that the gantry cranes would remain operational during high wind speeds or other extreme weather events.

Jun. 10, 2017

The largest powder coated rolling steel door we've ever made was installed by Stokes Equipment, a Wayne Dalton Dealer located in New Jersey.