Fiberglass Garage Doors
Model 9800
Designer Fiberglass | Model 9800

Sonoma Design | Red Oak

Designer Fiberglass | Model 9800

Sonoma Design | Gray | 6 Lite Square Windows

Designer Fiberglass | Model 9800

Sonoma Design | Clay | 16 Lite Square Windows

Designer Fiberglass | Model 9800

Horizontal Raised Design | Clay

Designer Fiberglass | Model 9800

Sonoma Design | Cherry | 16 Lite Square Windows

Designer Fiberglass | Model 9800

Sonoma Design | Walnut

Designer Fiberglass | Model 9800

Vertical Raised Design | Natural Oak | Vertical Windows

Designer Fiberglass | Model 9800

Horizontal V-Groove Design | Natural Oak | Vertical Windows

Designer Fiberglass | Model 9800

Sonoma Design | Walnut | 6 Lite Square Windows

Designer Fiberglass | Model 9800

Sonoma Design | White | 6 Lite Square Windows
Fiberglass Garage Doors
Model 9800
Fiberglass Garage Doors Mimic the Beauty of Wood
There is no denying solid wood garage doors are beautiful. Unfortunately, the elements can take a toll on their handsome good looks. Wayne Dalton's Designer Fiberglass garage doors offer all the beauty of real wood doors without the wear and tear that can mar their appearance and functionality. Our faux wood garage doors are engineered with an artful wood-grain fiberglass surface that is bonded to a durable steel frame.
Just as important as their undeniable curb appeal, our Designer Fiberglass garage doors are engineered to stand up to the elements. Fiberglass garage doors (faux wood garage doors) are as close as you can get to the warmth and beauty of wood without the warping, cracking or rotting that can sometimes damage solid wood doors. Instead, they will deliver low maintenance good looks and functionality for years to come.

Wayne Dalton offers a Lifetime Limited Warranty on this garage door. Please reference the warranty document for details.
Fiberglass Garage Doors Designed Your Way
Wayne Dalton makes it easy to create customized fiberglass garage doors that reflect your unique design taste. Whether your new doors will adorn a shake-shingle New England cottage, a rustic adobe in Tucson, two-story Colonial in the South, traditional ranch in the Midwest, or a sophisticated contemporary in the big city, we offer all the design elements to bring your vision to life.
Features
Our fiberglass garage doors are literally engineered for gorgeous, easy-care living. High-end features make them:
Resilient
Our fiberglass garage doors are engineered with a wood-grain fiberglass surface bonded to a durable steel frame for maintenance-free good looks and functionality that will last for years.


Thermally Efficient
With polyurethane foamed-in-place insulation that boasts a 7.6 R-value, our fiberglass garage doors can improve your home's thermal efficiency and block street noise. Snug fitting tongue-and-groove joints keep wind and weather at bay. A bottom weather seal blocks drafts and debris from the garage.


Safe
The TorqueMaster® Plus Counter Balance System features springs nestled safely inside a steel tube to prevent the accidental release of tension that could cause injury. Our fiberglass garage doors also feature pinch-resistant door panels to prevent finger injuries.


Long Lasting
An upgrade to the optional 25,000-cycle spring delivers twice the life of a standard torsion spring.


Guaranteed
Our designer fiberglass garage doors come with a Limited Lifetime Warranty.

*Wayne Dalton uses a calculated door section R-value for our insulated doors.
Available with WindSafe® wind load reinforcement built to withstand specific high-wind pressures to meet local building codes.


*Proper door selection is the responsibility of the homeowner. Please consult your local building code official, certified engineer or architect for wind load requirements in your specific location.
Read More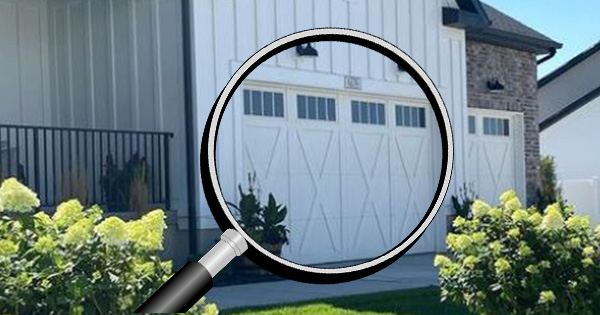 What You Need To Know
Looking for a new garage door? It's not just about choosing the right style and color - understanding factors like material, insulation, and other essential information can make all the difference!
Read More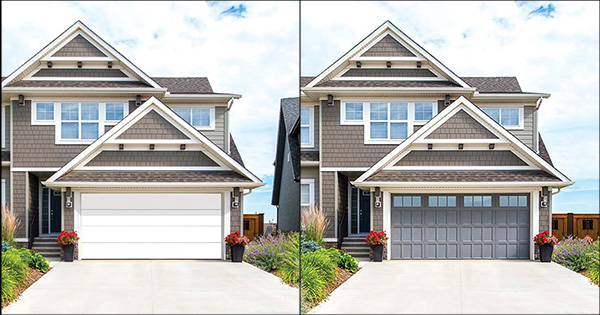 Design Center
Try our interactive Garage Door Design Center to visualize what your home would look like with a Wayne Dalton garage door.
Read More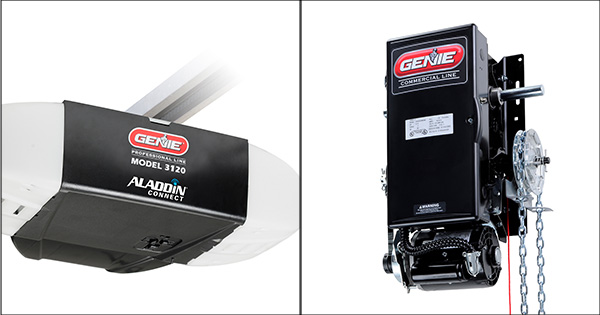 Garage Door Openers
Pair your Wayne Dalton residential garage door with an innovative and reliable Genie opener system.