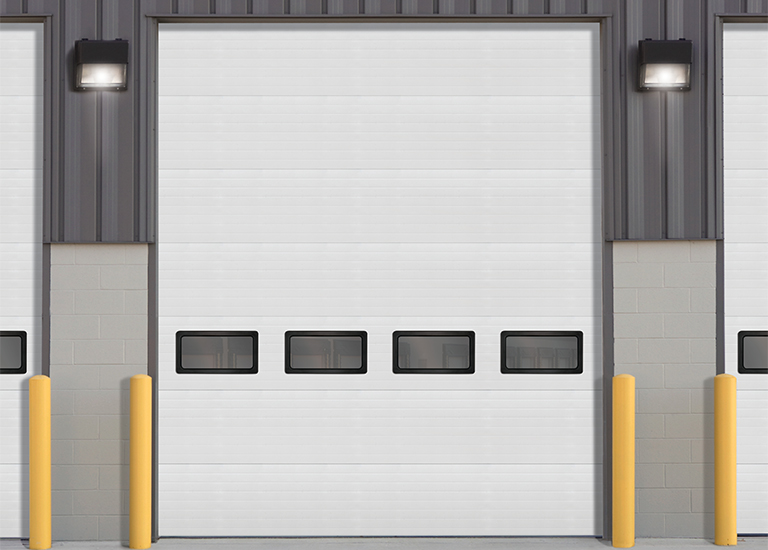 Johnny Brooke Renovates His Workshop with ThermoMark™ Model 530 Commercial Doors
Aug. 23, 2023
Crafted Workshop Owner Johnny Brooke Chooses ThermoMark™ Model 530 Commercial Doors to Complete Workshop Renovations and to Expand His Business
Crafted Workshop social influencer Johnny Brooke connects with his 1 million + followers through his YouTube channel, where he highlights his projects in woodworking and building, and gives do-it-yourself advice to his followers. Recently, Brooke teamed up with Wayne Dalton® on his latest project—restoring and repairing his recently purchased workshop, located in an older structure in Asheville, North Carolina.
Brooke reached out to Wayne Dalton® with a dilemma. The commercial doors on the building were rusty and old, and let exterior noises filter through. Located on a busy street near a car wash, the workshop's ambient surroundings made video production nearly impossible. On top of that, the roll-top doors provided no insulation from weather fluctuations; in the winter the doors were icy, and in the summer they blazed with heat.
"We share Johnny's passion for finding solutions that make customers' lives easier, so we suggested the ThermoMark™ Model 530 as the ideal product to solve his problem," Alexandria Ligorotis, brand manager at Wayne Dalton, said. "We feel confident in our commercial door line up and our ability to find a solution for any application."
With Wayne Dalton's help, Brooke turned an outdated commercial building into his dream DIY shop using two ThermoMark™ Model 530 commercial doors. Installed by Garage Door Specialists, Inc., the doors were efficiently framed and put into place to the satisfaction of Brooke who commented, "in my personal opinion, it's kind of best to leave [commercial door installation] to the professionals."
Why ThermoMark Model 530?
Wayne Dalton®'s ThermoMark™ Model 530 is the strongest and most thermally efficient door in Wayne Dalton's portfolio. Premium three-inch thick foamed-in-place polyurethane insulation marks this robust door one of the most thermally efficient doors in the industry, making it ideal for the chilly winters and hot summers.
Furthermore, Wayne Dalton®'s ThermoMark™ Model 530 insulated doors help to minimize energy costs and provide year-round comfort and security for commercial buildings. These doors are also engineered with hot-dipped galvanized steel and rugged construction, which result in years of solid performance.
As part of the renovation, Wayne Dalton® supplied a complementary security deadbolt that automatically locks and secures the workshop when the door closes. This is an optional add-on for the Genie® 6170H-B wall mount pro series jackshaft motor. This wall mount garage door opener is integrated with Aladdin Connect® and includes a battery backup, ensuring reliable operation.
"Even without a motor this door was incredibly smooth and you could raise and lower it with one finger… It is so nice to have a motorized commercial door finally here in the shop," Brooke stated in a product review segment on his YouTube channel, where he documents his building journey at www.youtube.com/craftedworkshop and on his Instagram account.
"We look forward to seeing him continue to take his brand to new heights in this much improved environment," Ligorotis said. For more information on the ThermoMark™ Model 530, visit https://www.wayne-dalton.com/commercial-doors/detail/insulated-sectional-doors-model-530.
Related Blogs
Dec. 11, 2017

Wayne Dalton commercial doors helped transform a struggling automotive shop this fall on Discovery Channel's new series GARAGE REHAB.

Jul. 8, 2018

Topgolf Patio Door project included adding Wayne Dalton's aluminum full-view doors and insulated sectional steel doors.

Feb. 14, 2020

M1 Concourse Condo features Thermospan® Model 150 Doors Wayne Dalton dealer Quality Overhead Door installs doors for luxury car condo on world-class track in Pontiac, Michigan