Vinyl Garage Doors
Model 8700
Specialty Vinyl | Model 8700

Sonoma Design | Monterrey Sand | 8 Window Square

Specialty Vinyl | Model 8700

Sonoma Design | Cape Cod Gray | 8 Window Square

Specialty Vinyl | Model 8700

Colonial Design | White | 4 Window Square

Specialty Vinyl | Model 8700

Sonoma Design | Glacier White | 5 Window Square
Vinyl Garage Doors
Model 8700
Vinyl Garage Doors Offer So Many Advantages
There's a reason why Wayne Dalton's vinyl garage doors are so popular. Actually, there are lots of reasons. First, they boast an elegant look that immediately elevates the exterior façade of any home. Wood-grain texture and deep raised panels offer the timeless look of freshly painted hardwood.
But just as important as their undeniable curb appeal, is their quality construction. Our vinyl garage doors are engineered to stand up to the elements. They are highly versatile with a UV-resistant finish that ensure the color of the garage door doesn't fade due to sun exposure.
Model 8700 is especially popular in coastal regions where salt, humidity and sand can take a nasty toll on wood and metal garage doors. Durable vinyl garage doors "weather" the weather beautifully and still function with smooth precision.
So, while you're enjoying coastal sunsets and a sand between your toes, your Wayne Dalton vinyl garage door will do what it's supposed to do—keep your garage secure and look great doing it for years to come.

Wayne Dalton warrants this door for 15 years against peeling flaking, chipping or cracking of the vinyl skin and 5 years against excessive color fading of the vinyl skin. Please reference the warranty document for details.
Vinyl Garage Doors Go Glam
Wayne Dalton makes it easy to create customized vinyl garage doors that reflect your unique design taste. Whether your new doors will adorn a shake New England-style cottage, traditional two-story haven or Colonial-inspired house in the 'burbs, we offer all the design elements to bring your vision to life.
First, choose from two of our most popular door designs—Sonoma or Colonial. Next, accent your vinyl garage door design with one of four signature-color paint finishes—Glacier White, Adobe Cream, Monterey Sand or Cape Cod Gray. Finally, select your preferred window design—Cathedral I, Ruston, Stockton 1 or Williamsburg l. All windows come in clear and privacy glass. Optional insulated glass is also available for improved thermal performance.
Features
Our vinyl garage doors are engineered for gorgeous, easy-care living. High end features make them:
Resilient
Scratches are less visible because the color goes all the way through the PVC material used to make our vinyl garage doors. UV resin contains special polymers that protect the door from the sun's harmful ultraviolet rays.


Thermally Efficient
With foamed-in-place polyurethane insulation that boasts a U-factor* of .24

(R-value** of 11.75)

, our vinyl garage doors can improve your home's thermal efficiency and block street noise. A bottom weather seal blocks draft and debris from the garage.


Safe
With the TorqueMaster® Plus Counter Balance System, springs are nestled safely inside a steel tube to prevent the accidental release of tension that could cause injury. Our vinyl garage doors also feature anti-drop technology for added safety.


Long Lasting
An upgrade to the optional 25,000-cycle spring delivers twice the life of a standard torsion spring.


Guaranteed
Our vinyl garage doors come with a 15-year warranty against peeling, flaking, chipping or cracking of the vinyl skin, and five years against excessive color fading.
*U-factor is independently tested and verified per ANSI/DASMA 105 using solid doors and specific product sizes.
**Wayne Dalton uses a calculated door section R-value for our insulated doors.
Available with WindSafe® wind load reinforcement built to withstand specific high-wind pressures to meet local building codes.
*Proper door selection is the responsibility of the homeowner. Please consult your local building code official, certified engineer or architect for wind load requirements in your specific location.
---
Construction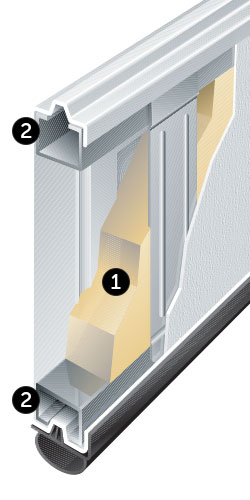 1. Polyurethane insulation is permanently bonded to the vinyl skin for thermal efficiency, durability and added rigidity.

2. Twin 22-gauge steel C-channels run full length of each panel and are anchored to the interior steel stiles for strength
Read More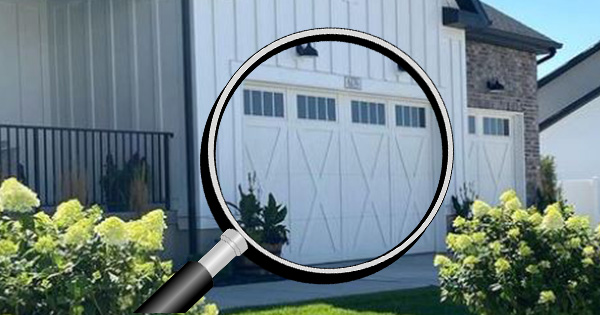 What You Need To Know
Looking for a new garage door? It's not just about choosing the right style and color - understanding factors like material, insulation, and other essential information can make all the difference!
Read More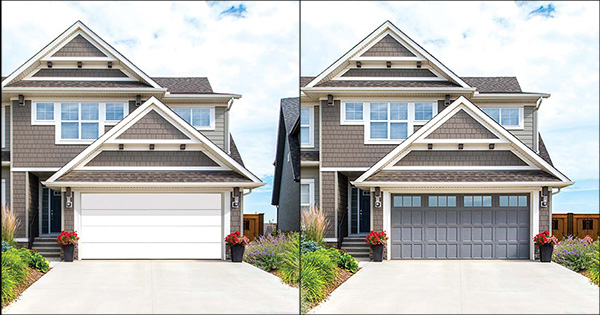 Design Center
Try our interactive Garage Door Design Center to visualize what your home would look like with a Wayne Dalton garage door.
Read More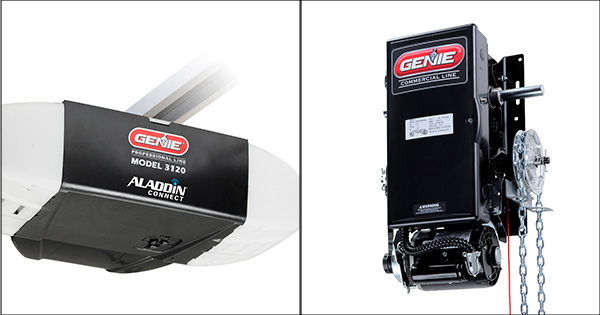 Garage Door Openers
Pair your Wayne Dalton residential garage door with an innovative and reliable Genie opener system.