Carriage House Garage Doors
Model 8670
Carriage House Steel | Model 8670

Lexington Design | Custom Color| 8 Square Windows

Carriage House Steel | Model 8670

Providence Design | Custom Color | 6 Square Windows

Carriage House Steel | Model 8670

Newport Design | Natural Oak | 6 Arch Windows

Carriage House Steel | Model 8670

Providence Design | Custom Color

Carriage House Steel | Model 8670

Lexington Design | Mahogany

Carriage House Steel | Model 8670

Charleston Design | White | 6 Square Windows

Carriage House Steel | Model 8670

Providence Design | Clay | Plain Square Windows

Carriage House Steel | Model 8670

Lexington Design | Gray | 12 Arch Windows

Carriage House Steel | Model 8670

Westfield Design | Walnut | Plain Arch Windows

Carriage House Steel | Model 8670

Bellview Design | Custom Color | 12 Square Windows
Carriage House Garage Doors
Model 8670
Carriage House Designs to Transform Your Home
There's a reason many discerning homeowners are drawn to carriage house designs over utilitarian garage doors. Model 8670 is a perfect example. This Steel Carriage House Door is quite simply a design chameleon that looks amazing with so many architectural styles. Whether your home is flanked in handsome plank siding, stacked stone, traditional brick and mortar, shake shingles or stucco, Wayne Dalton's carriage house designs add the perfect finishing touch—along with welcome functionality that secures your garage space.
With a stylish nod to wide open spaces and the quiet country life, our vintage-inspired Model 8670 boasts classic good looks, beautiful craftsmanship and care-free maintenance. You don't have to be nestled on acres of rolling Kentucky bluegrass to add a bit of carriage house charm to your home sweet home. All of our carriage house designs lend a fresh, welcoming ambiance to the exterior of your home no matter where you live. Elegant, yet unfussy, they're sure to add eye-catching appeal to your domestic slice of heaven.
With a classic swing-open appearance and tall sections for maximum light, carriage house designs offer all the style you love with the modern-day convenience of a sectional steel garage door. Best of all, when you choose one of our carriage house designs, you don't have to sacrifice beauty for durability. Unlike wood doors that can warp, crack or rot, a steel garage door maintains its good looks for years to come.

Wayne Dalton offers a Lifetime Limited Warranty on this garage door. Please reference the warranty document for details.
It's Easy to Customize Our Carriage House Designs
Your home should reflect your unique aesthetic, so we provide lots of options that allow you to infuse our carriage house designs with your personal style. Whether the Model 8670 will be the finishing touch on a custom new-build, adding fresh style to a traditional ranch or enhancing the character of a classic craftsman, we offer design elements and options to help you bring your creative vision to life.
Features
Wayne Dalton's carriage house designs are literally engineered for gorgeous good looks and easy-care use. Expert craftsmanship and high-quality features ensure they are:
Thermally Efficient
With polyurethane foamed-in-place insulation that boasts an U-factor* of .16

(R-value** of 11)

our carriage house designs can improve your home's thermal efficiency and block street noise. Snug fitting tongue-and-groove joints help keep wind and weather out of your garage. A bottom weather seal blocks draft and debris.


Safe
With the TorqueMaster® Plus Counterbalance System, springs are nestled safely inside a steel tube to prevent the accidental release of tension and prevent injury.


Durable
Structural reinforcements are available for model 8670 carriage house designs used in coastal and high-wind areas.


Guaranteed
Our Model 8670 carriage house designs come with a Limited Lifetime Warranty.


*U-factor is independently tested and verified per ANSI/DASMA 105 using solid doors and specific product sizes.
**Wayne Dalton uses a calculated door section R-value for our insulated doors.
Similar Products
Carriage House Garage Doors
Model 8600
This low-maintenance, steel-panel door embossed with DecaTrim™II wood-grain will enhance your home's style and thermal efficiency.
View Details

Carriage House Garage Doors Model 8600
Carriage House Steel Garage Doors
Model 9405
Eye-catching and built to last, these carriage house, steel doors will enhance the look of your home with a vintage-inspired style.
View Details

Carriage House Steel Garage Doors Model 9405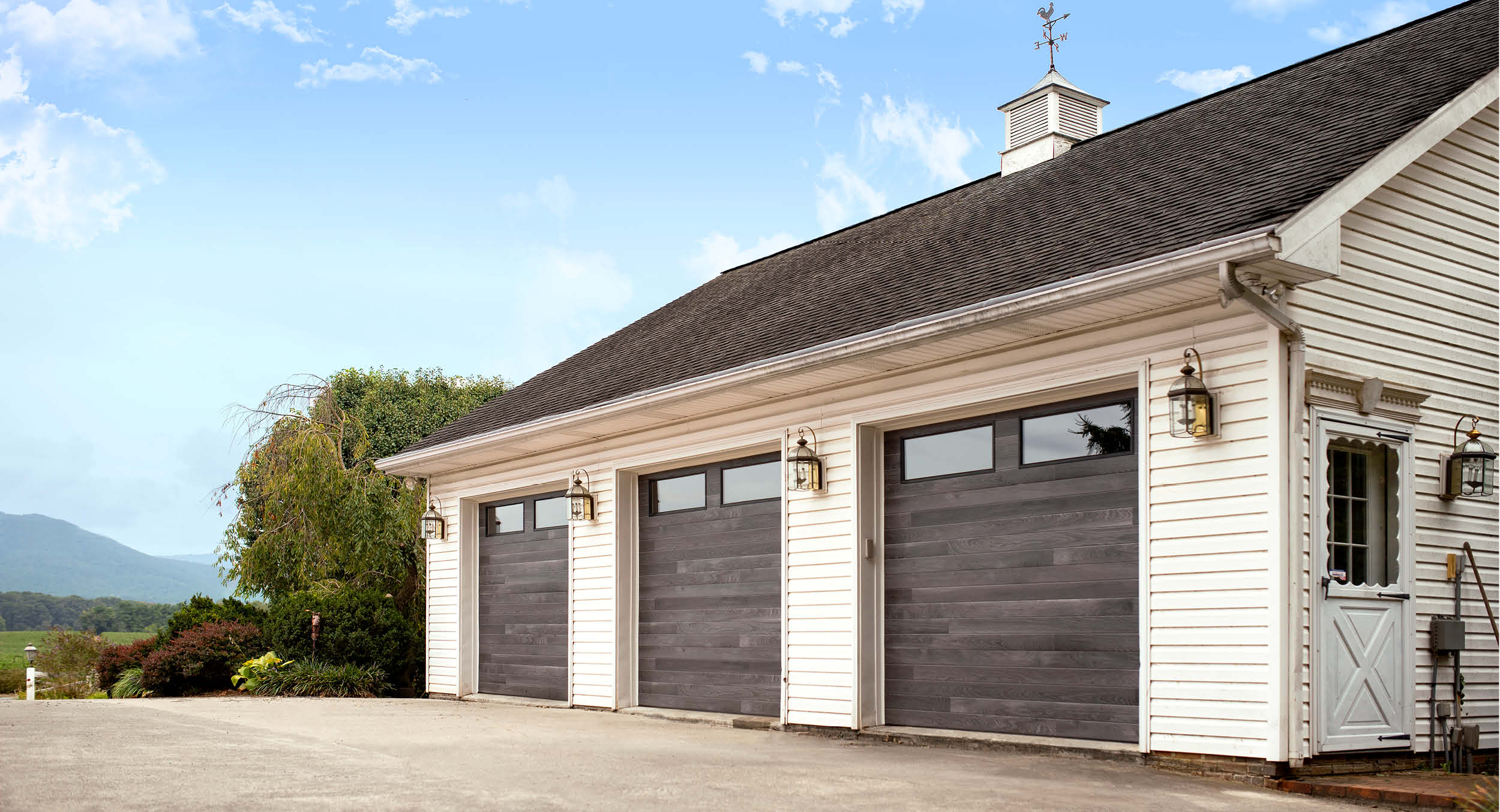 Classic Steel Garage Doors
Models 8300, 8300AG, 8500 & 8500AG
Heavy-gauge steel and a thick layer of insulation, provides a smooth, dependable operation that excels in appearance and strength.
View Details

Classic Steel Garage Doors Models 8300, 8300AG, 8500 & 8500AG
Read More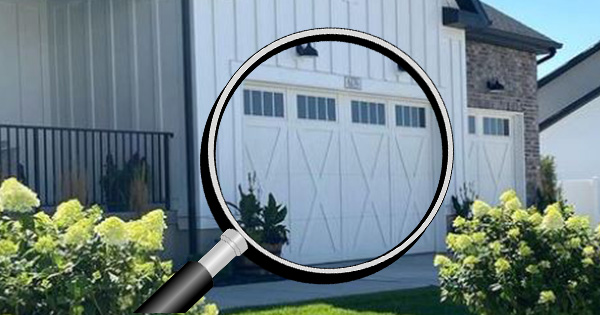 What You Need To Know
Looking for a new garage door? It's not just about choosing the right style and color - understanding factors like material, insulation, and other essential information can make all the difference!
Read More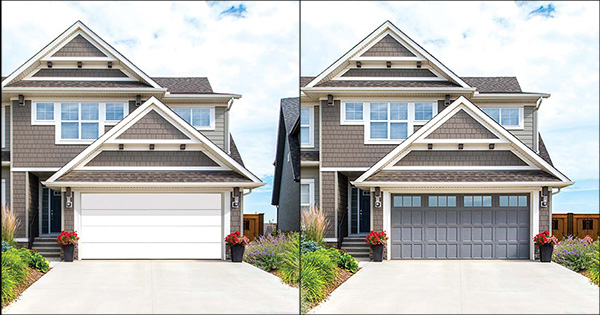 Design Center
Try our interactive Garage Door Design Center to visualize what your home would look like with a Wayne Dalton garage door.
Read More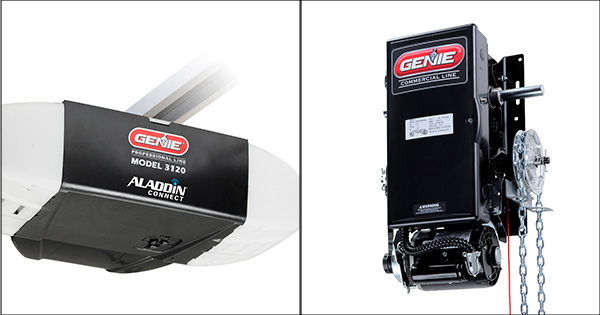 Garage Door Openers
Pair your Wayne Dalton residential garage door with an innovative and reliable Genie opener system.