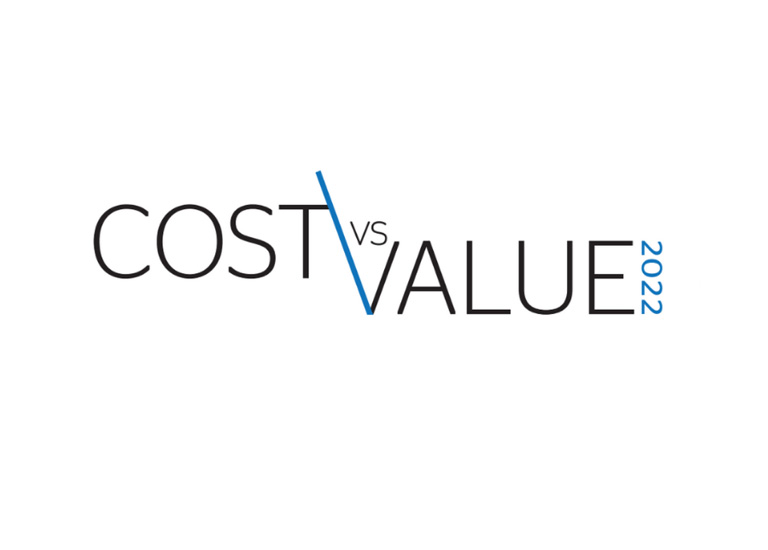 2022 Cost vs. Value Report
Jun. 1, 2022
How Cost vs. Value Influences the Top Must-Have Features for Putting your Home on the Market: Garage Door Edition
At Wayne Dalton, it's no secret we are passionate about the impact the right residential garage door can have on a home's curb appeal. In fact, we've been sharing the many benefits a quality garage door can add to a home for decades. From the aesthetics they provide or the great return on investment (ROI) homeowners can enjoy, our team has always known the value a quality garage door can provide! So, it makes sense that homeowners' top renovation project is getting the attention they deserve.
Making a great first impression is critical in persuading a potential homebuyer to see more, as the exterior is the first thing they notice. Your home only gets one chance to make a lasting impression. In fact, research shows that when it comes to curb appeal, investing in a solid, spiffy-looking garage door trumps all other exterior improvements. Home buyers are willing to spend big on homes with higher quality finishes and an exterior with a personality – especially in today's housing market.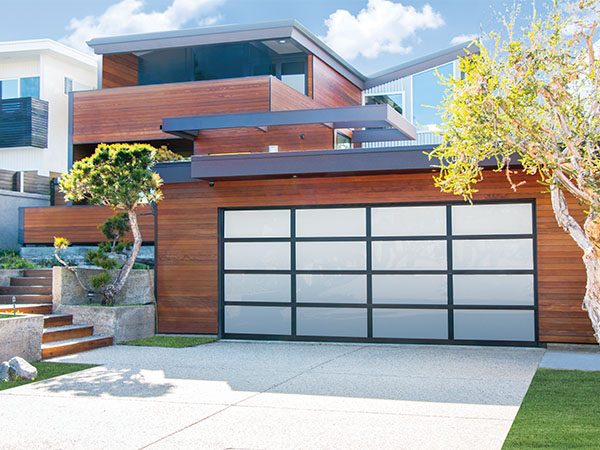 Full-View Aluminum Model 8800
Interestingly, in the 2022 Cost vs. Value Report by Remodeling magazine and Zonda, more than 50% of home renovations with the highest return on investment were external. From updated siding and roofs to replacing the garage door, windows, entry door and patio replacements, these top remodeling projects are widely known to retain their value at resale. Since first including garage door replacements in the Cost vs. Value Report in 2010, they have ranked among the top five projects. This year, with an impressive 93.3% average ROI and garage door replacements claiming the No. 1 spot for the highest ROI for common household renovations, homeowners are getting the bigger picture of the benefits they get from a quality garage door!
This year, the Cost vs. Value Report compared average costs for 22 remodeling projects with the value those projects retain at resale in 150 U.S. markets. This is an even greater voting pool compared to the previous years. The Cost vs. Value Report applies construction cost estimates, a series of economic variables and comprehensive geographical coverage to provide detailed, precise information on specific markets. According to this year's findings, recent and established key trends indicate that "curb appeal" projects generated a higher ROI than interior home improvements. When selling your home, having a well-groomed facade can help attract prospective homebuyers. According to HAR, "Homes with good curb appeal sell for 7% more, on average, than similar homes with an uninviting exterior." Since the garage door is typically one-third of a home's exterior, replacing your garage door can make a difference in first impressions.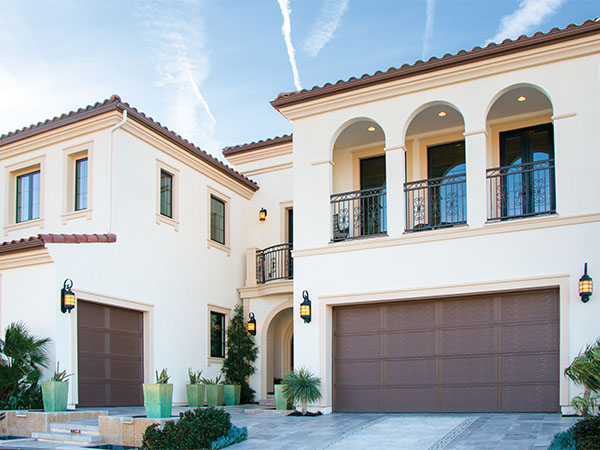 Carriage House Steel Model 9405
So, How Does A Garage Door Actually Help Sell A Home?
While we understand that most people only consider replacing their garage door once it's necessary, putting it off until the exterior is dented and dingy or the door stops working altogether can create a costly problem. To get the most significant ROI, not just any garage door will do.
Choosing a bland door finish that doesn't enhance your home's appearance could make the garage door look dated. It's important to prioritize your home's style and exterior features. For example, an ultra-modern garage door on a traditional-styled home may leave prospective buyers scratching their heads rather than writing an offer.
Garage doors have such a considerable ROI because of their affordability. Since garage doors are one of the most inexpensive projects featured on the Cost vs. Value Report, they can recoup most of their cost. Choosing a quality constructed thermal-efficient garage door is something else to consider when it comes to increasing your ROI. Studies show that 71% of realtors believe it's helpful to promote efficient features in a listing, making it no surprise that homeowners enjoy our insulated garage doors.
As such, there is tremendous value in keeping your garage door updated, efficient and up to par with the rest of the home's facade (the proof is in the pudding!).
Garage Doors Are Here to Stay
Just as it's important to understand the benefit eye-catching curb appeal provides your home, it's also vital to use a reputable door manufacturer such as Wayne Dalton to help make that happen. In fact, BUILDER magazine's annual Brand Use Study ranked Wayne Dalton among the top garage door brands across all measured categories for 2022, including 'brand familiarity,' 'most used in the past two years' and 'used the most' overall. Ranked by more than 850 industry professionals, the national survey gauges the attitudes of reputable U.S. builders, developers and contractors to reveal the top manufacturers and products they most recognize, use and trust.
Wayne Dalton makes it easy for homeowners use and trust our products as we simplify the decision-making process. We offer three distinct, fan-favorite styles that enhance any home: Traditional, Carriage House and Modern. Within each style, there are various panel designs, windows and colors to take a home's exterior appearance to the next level. While some homeowners choose to have their garage door match the home's architectural style, others prefer to combine different looks to create a unique design. So whether remodeling to sell or renovating to stay, a garage door replacement will make a lasting statement.
So, how can you further enhance your home's exterior with this top home improvement project?
Be Bold: Homeowners looking to dramatically improve their curb appeal should consider one of the leading trends Wayne Dalton has seen in the housing market: black garage doors. Whether your home's aesthetic is modern, traditional, colonial, spanish or victorian, a black garage door can add an original and sleek style to your curb appeal.
Be Sleek: In recent years, homeowners have leaned toward a sleek, no-nonsense aesthetic with designs favoring a contemporary or modern style. To best complement modern architectural design for indoor-outdoor spaces, garage doors that feature clean lines provide an uninterrupted flow between these settings.
Be-One-Of-A-Kind: Purchasing a new garage door requires homeowners to weigh many variables to complement their home, such as the best overall design, desired hardware, window arrangements and finish, and the list continues. Cue our Garage Door Design Center where you can make your vision come to life. Our state-of-the-art design center allows you to choose custom garage door details based on your unique taste effortlessly.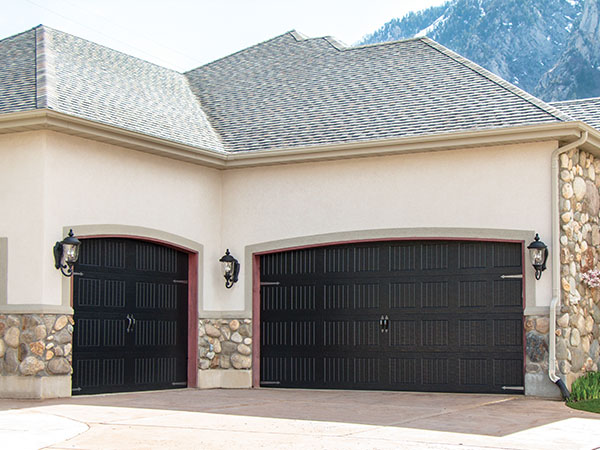 Classic Steel Model 8300
Ready to Add Value to Your Home with a New Garage Door?
As a premier manufacturer of residential garage doors for more than 65 years, Wayne Dalton has worked with customers to provide a variety of style, performance and durability features that homeowners can feel confident in choosing when wanting to improve their home's exterior.
Remember, the garage is often the first thing many house hunters see when they arrive at your home. First impressions are formed and they frequently make up their minds about whether to buy within minutes. Make the decision to replace your old door and maximize curb appeal while adding instant value to your home. It's one smart investment you'll be glad you made.
At Wayne Dalton, we have a plethora of garage door models, styles and options available and a rich, established history that homeowners can trust. Get started with your garage door replacement project by contacting one of our professional dealers or through our partnership with Lowe's Home Improvement.
Related Blogs
Jul. 28, 2021

Garage door replacements claimed the Number 1 spot for the highest return on investment (ROI) for common household renovations according to the 2021 Cost vs. Value Report by Remodeling magazine and Zonda.

Mar. 4, 2020

Garage Door replacements have secured the #2 spot for return on investments says the 2020 Cost vs. Value Report

Feb. 19, 2018

Garage Door replacements have secured the #2 spot for return on investments says the 2020 Cost vs. Value Report.