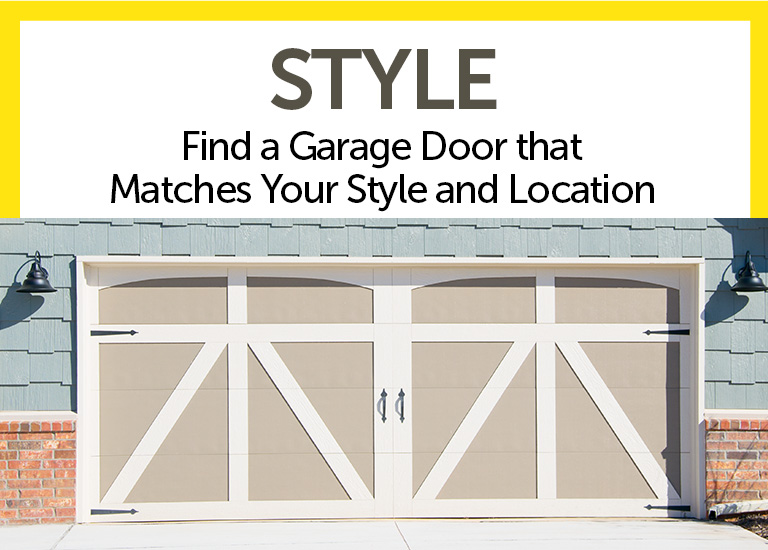 You have decided to invest in a garage door. Now it is time to figure out what the next step is. You might not know what kind of garage door will complement the external infrastructure of your home. Or, if you have an idea of what you want, you might not know which garage door style best fits the type of material that you have decided to install.
Research is the next step after making up your mind to purchase a garage door. To make the process easier, try to break down the various aspects of a garage door that falls into what you truly desire.
Choosing the Right Material for the Climate
First, you must take into consideration where you live. Think about the type of weather conditions that your location is prone to experiencing. Also, think about the climate. Does where you live experience extreme blizzards or heat waves? Do you constantly experience humid or dry conditions?
It is best to consider how the weather and climate can affect the inside of your home. A garage door is the largest opening of the home. It will have to be compatible with the outside elements to last a long time.
Types of Garage Doors
Wayne Dalton offers three garage door styles: Traditional, Carriage House, and Modern. It helps to know the foundation and material that works with the style of your house. If you live in a cold and dry environment, then wood could be the garage door material for you.
Choosing a material is not only based on the environment but maintenance and upkeep. If you want a low-maintenance garage door, then your preference might lean toward having a metal door. Or, if you like the look of wood but not the required upkeep, then fiberglass might be the material for you.
Types of Home Styles
Once the material is selected, now it is time to choose the style of your garage door. There are seven types of homes to go with your garage door styles: Ranch, Mediterranean, Tudor, Craftsman, Farmhouse, Contemporary, and Colonial. This is the stage of the process where you figure out which type of garage door matches the style of your home.
Ranch-style garage doors make your home look longer thanks to its wide, elongated structure. This classic style is perfect for garages that are spacious and complement the country-style home.
The Mediterranean garage door style complements Spanish Style Homes. This garage door style is typically dark in color to contrast a white, light brown, or tan exterior. The color contrast makes the garage door one of the main focal points of the home.
Tudor-style garage doors are often recognized by their diagonal crossings of wooden-styled beams. This garage door style is often dark in color but can contain a contrast of both white and deep brown.
The Craftsman-style garage doors are known for their rectangular-shaped windows and indented panels. This style complements box-structured homes and creates a neat snack effect for your home.
The Farmhouse garage door style is self-explanatory. Typically, the style is part of a garage that is separated from the main house, like a barn. But a more modern version of a farmhouse-style garage can complement a country-style home.
Contemporary garage-style doors are often paired with more modern exteriors. These types of garage doors often blend into the architectural makeup of the home due to their frameless and sleek build.
Colonial-style garage doors offer more of a classic feel to a home's exterior. With recessed and raised panel designs, it goes great with extremely symmetrical homes with similar exteriors.
Choosing the Right Architecture for Your Home
Based on the information given above, it is imperative for you as a buyer to select the garage door style that complements the type of home that you have. Sure, you can mix and match, thanks to the various materials that garage doors can be made of. But, if the structure of a garage door is not compatible with the architecture, then that could cause other issues.
Understand Safety Requirements, Maintenance, and Upkeep
The safety requirements of having a garage door come with knowing its strengths and weaknesses. This goes back to knowing what material fits best in which environment and options are available such as windows.
Think about if you live in an extremely hot and humid climate with kids living in the home. Would that lifestyle be conducive to having a metal door with a frameless build that is hard to, see? These things should be kept in mind when deciding on the material and styling of your garage door.
This also comes with knowing what it takes to maintain a garage door and how certain materials can affect it. The style can upgrade the look of your home but if you do not know that it would require someone to constantly furnish wooden garage doors, you could end up with damaged garage doors that throw off the look of a home.