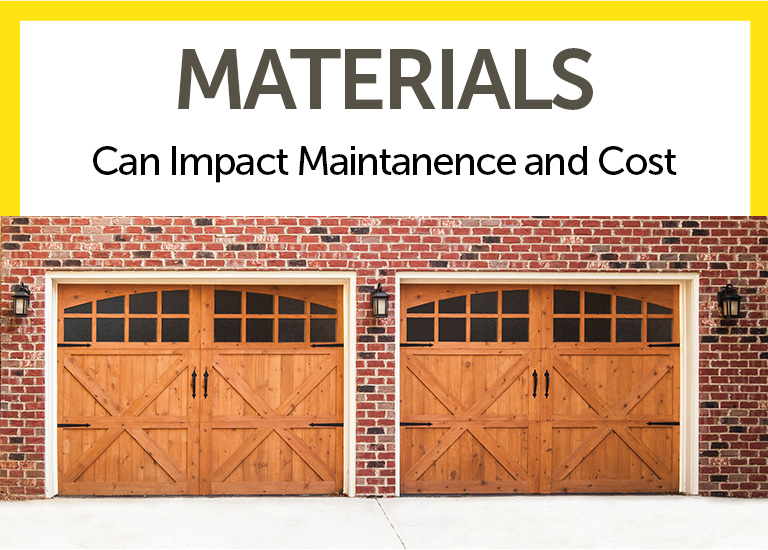 When it comes to getting the best garage door materials, one must consider comparing the properties and durability. The next thing to keep in mind is the price of each material and what you are willing to spend. Choosing the right material for your garage door may seem intimidating. But once you explore the characteristics and features of each material, the process can become less stressful.
There are 5 types of garage door materials you should know: aluminum/glass, fiberglass, steel, vinyl, and wood. Below, we will briefly discuss each type so you can determine what material your garage door is made from and how best to assess maintenance and cost for new installation or replacement.
Aluminum/Glass provides a rawer industrial look for your home and does not need much upkeep like wood or fiberglass. Aluminum is strong, long-lasting, and corrosion-resistant but also much lighter than steel. However, aluminum often has low insulation capabilities and can be affected by extreme heat conditions to decrease its durability. This type of garage door material is also perfect for busy and independent homeowners.
Faux wood can bring you the same wood- look without the high maintenance and cost of upkeep. Fiberglass, also referred to as faux wood, offers both the look and functionality of wood garage doors and allows homeowners to enjoy the traditional appeal of wood without spending a fortune. However, there are other benefits that faux wood garage doors offer. Faux wood only needs to be repainted or refurbished once every 1-3 years and does not diminish in quality over time like real wood can. In terms of maintenance and price points, fiberglass is one of the more forgiving garage door materials.
Steel is a popular low-maintenance garage door material that is cost-effective, durable, and available in a range of design options. Considered to be an all-purpose material, you can customize the window styles, panels, and colors of the door. Steel also offers the flexibility to fit within any home (from conventional to coach style), is long-lasting, and can withstand all kinds of weather conditions.
Vinyl is mid-range concerning the price level and low-maintenance requirements. Consider where you live before buying this garage door material because vinyl is only recommended for homes located in areas along the coast. Cross this off your list if where you live is hot and is highly elevated. One of the benefits of this material is it does not corrode or rust and does not have to be painted.
Wood, an all-natural material, can be molded to fit your desired style, which makes for a remarkable design to enhance the look of your home. Wooden garage doors can come in a range of colors and finishes to give your home the look and feel it deserves. These garage doors can be more eco-friendly than doors built out of other materials and their production has less of an effect on the environment. It does require more maintenance than steel, at a higher cost, but is a small price to pay for the timeless beauty of a real wood door.
Selecting the Right Material for Your Home
Ultimately, you must consider the environment that your home is in and the type of aesthetic that you would like to create for your home. You should also consider how you are going to use your garage and what functions you want your garage door to perform. In addition, when it comes to maintenance, styles, and weather-resistant capabilities, you want to look beyond the initial price of the actual garage door material to know the true price.
Finally, you should consider the budget before choosing a garage door material. A home with a good garage door can alleviate the costs of utility bills (via good installation capabilities), enhance protection, and upgrade the look of your home. Knowing the diverse types of garage door materials is crucial in picking a good garage door.