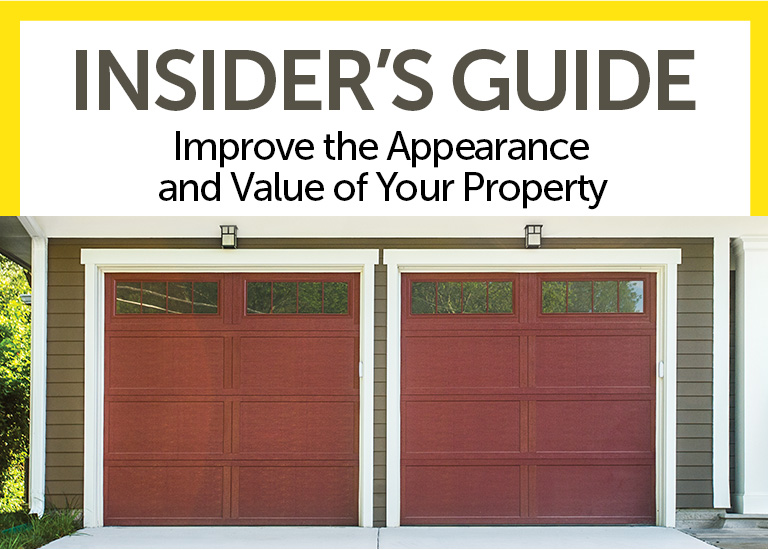 The garage is often the entryway to a home and can be seen from the outside as well. You do not want to underestimate the garage door design you choose when planning your dream home or home improvement. This exterior home attachment is just as vital as the interior design of the home.
The best garage doors are those that complement both the building's architectural design and the owner's personal preferences. They should be attractive, secure, and feature some advanced technological qualities. Choosing the best garage door is not a small decision. When it is done right, it offers a welcoming environment and improves the visual appeal of your home.
You will first want to examine if your garage door is in good working order or whether garage door replacement or new garage door installation is needed. In this article, we will discuss what to look for when selecting the best garage door for your home.
Understanding Your Home's Architectural Style
Homes have different styles. You will want to understand what your home is before diving into a garage door design.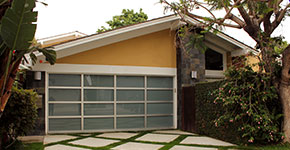 Modern and Contemporary Homes:
This category includes any architectural style with a flat roofline, an asymmetrical design, and a blend of various materials.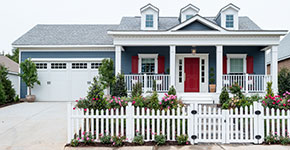 Colonial Homes:
Colonial houses are constructed in a historic architectural style typically rectangular in shape, with a gable roof, proportional windows, neutral color schemes, and flat exterior walls.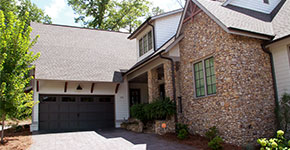 European Homes:
Usually, European home designs are large, with lavish styling and grandeur, with the exterior made up of brick, stucco, and stone. European house plans are easily identifiable by steeply sloped rooflines, swooping rooflines, balconies, and arched doorways.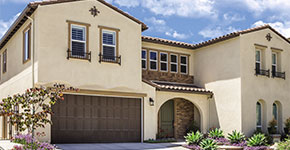 Mediterranean and Spanish Homes:
Mediterranean homes typically have a red-tiled roof (usually terra cotta), as well as white-painted masonry or stucco. Other frequent elements include stone detailing, carved doors, and raw iron and metalwork on windows, balconies, and front doors.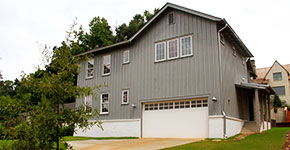 Ranch and Country Homes:
Open floor plans and comfortable indoor-outdoor living characterize modern ranch house plans. Ranch home plans are typically built on slab foundations, which help to connect the house to the surrounding land.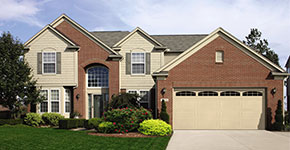 Traditional Homes:
A traditional house can take almost any shape, as it depicts the highly structured styles that have been popular in Europe and America for ages. This category describes many designs with a more historical style and a floor plan with officially delineated spaces.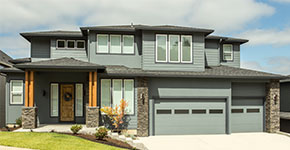 Craftsman Homes:
Low-pitched gable (triangular) roofs, overhanging canopies with exposed rafters and beams, massive, tapered columns, patterned windowpanes, and covered front porch hallmarks of the Craftsman style. Natural materials such as wood, stone, and brick are used to construct them. Bungalows and Prairie homes with flat roof lines and covered porches fall into this type.
Choosing the Best Garage Door for Your Home
Once you understand the architectural orientation, these 4 steps will help you identify the best garage door for your home.
1. Choose the garage door pattern
Traditional Garage Door:
They have raised or recessed panels that might be short or long and have a classic style. Numerous window alternatives can complement the appearance of many home styles.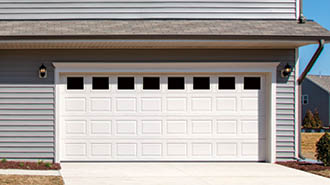 Carriage House Door:
This garage door category has an old-world charm and resembles stable swinging doors. They do, however, move up and down like a traditional garage door. Decorative hinges and handles beautifully complement the look.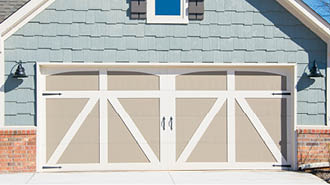 Modern Garage Door:
These doors, which offer an array of materials and feature having clean lines and elegant window types, are suitable for Contemporary and Modern homes.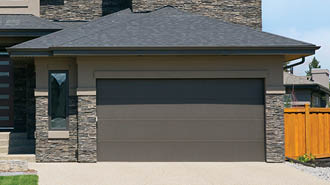 2. Determine how much garage door you can afford
The door material can determine the sort of maintenance required. Maintaining your garage doors in good working order is crucial; otherwise, your automobile may become stranded in the garage. Depending on the garage door's material, proper maintenance at regular intervals might reduce the likelihood of unpleasant occurrences. Many garage door issues could gradually deteriorate and worsen over time. If left ignored, a simple fix could turn into a costly replacement.
Wood demands high maintenance; requires repainting or re-staining every year or two to keep wood from drying out. Fiberglass is a medium-maintenance material that requires a clear coat every one to three years, depending on sun exposure. On the other hand, aluminum, steel, and vinyl are low-maintenance materials.
3. Consider climate conditions
Try to balance out the needs of the climate conditions in your region when choosing a garage door because varied weather patterns can significantly impact the usability of your garage. Humidity, cold weather, heat, and rain can severely affect your garage door and its functionality.
If you live near the water and get a lot of sea air, vinyl garage doors form the best choice because vinyl does not rust and is designed for coastal regions; hence it may be the best option.
If your home's region is in a chilly climate, the most typical garage door problem is contracting metal. The metal in your door will tighten when the temperature outside drops, making movement more difficult.
Heat, in addition to sunshine, impacts garage door openers. Extreme heat can harm the sensors and wiring for the operator motor since many electronics are susceptible to severe temperatures. These sensitive components can be protected from excessive heat by using an insulated garage door to help keep your garage cool.
Consider a door with polyurethane foamed-in-place insulation for improved thermal efficiency if you deal with exceptionally hot or cold weather.
4. Establish a budget
With so many options on the market, you will need to consider several other things to estimate the actual cost of a garage door and set a budget that works for you.
Wayne Dalton offers a wide range of door types and solutions to suit any budget. According to a common rule of thumb, a garage door should cost one percent of the home's worth.
Garage doors are an investment that can help improve the value of your home. While it is a significant investment, it is one of the critical factors to enhancing a home's curb appeal and value.