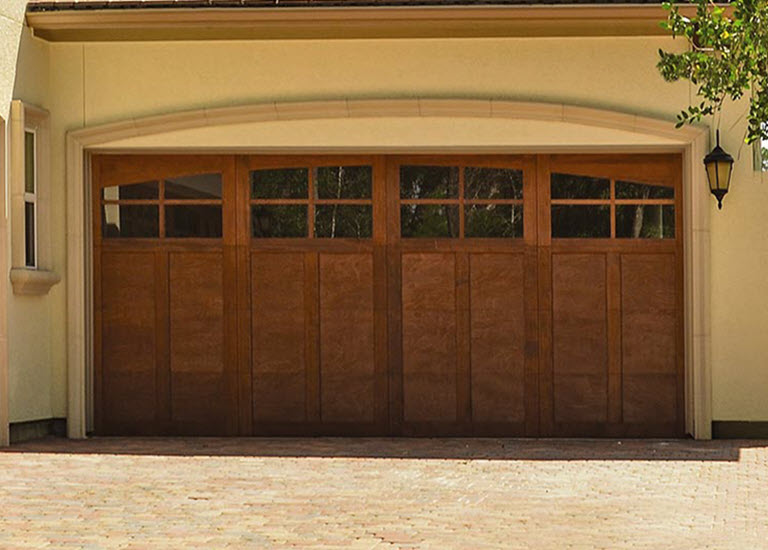 Beautiful Wooden Garage Door Designs
Jul. 5, 2017
Beautiful! That's one word to describe custom wooden garage doors. Real wood garage doors from Wayne Dalton are hand-built to meet your specific design criteria. With a custom designed wood garage door, you can design it to compliment your home's architectural style. Check out these 10 beautiful wood garage door designs that our Amish craftsmen in Mt. Hope, Ohio, and our wood artisans in Centralia, Washington created.
Customized wood garage door Model 7103 Mustang with custom stain finish and 16 lite arched windows on The Property Brother's home in Las Vegas, NV.





Love, love, love how these custom wood doors compliment this very rustic home design.





Wood garage doors look great with homes that have stone exteriors just like our Model 7103 Mustang with custom stained finish and 24-lite arched windows on this home.





It's only right to have a custom wooden garage door on a log cabin style home.





Here's a flush wood garage door from our 40 Series which has a white painted finish and flush wood design which also makes it great for homes with modern exteriors.





The exterior of this home just wouldn't look the same without these custom wood garage doors built of African Mahogany wood.





These rich and beautiful raised panel wood garage doors are from our 300 Series.





This custom wooden garage door from our 7100 series looks stunning with the stone and dark wood trim on this home.




Another beauty! These wooden garage doors perfectly compliment this home's Tudor architectural style.




This wood garage door from our 7100 series (Model 7104 Palomino) on this home really pops with the light brick exterior.





As a reminder, it's important to reseal your wood doors each year to preserve their pristine appearance.

View all of our wood garage doors.
Related Blogs
Feb. 13, 2020

Cleaning your wood garage door isn't easy, so follow these steps.

Oct. 25, 2017

HGTV Property Brothers Transform Las Vegas Home With Custom Wood Garage Doors